The way we eat can help or hinder our weight loss journey. There are certain foods that we can make work for us and assist in not only losing, but maintaining a healthy weight. The power-house foods listed not only support health but help keep us feeling full and satisfied longer.
Apples: The expression, "An apple a day keeps the doctor away" is accurate! Loaded with fiber and Vitamin C, apples can reduce the risk of heart disease, hypertension, diabetes and cancer. One medium apple has approximately 95 calories. Pectin, a soluble fiber found in apples helps to naturally pull LDL cholesterol out of the body. There are 4.4 grams of fiber found in an apple. Fiber helps to keep us full and gives a greater sense of satisfaction. The peel of an apple contains a component called Ursolic acid, which has the potential to increase muscle and brown fat and lower white fat, which leads to obesity.
Greek Yogurt: Strained of whey, Greek yogurt is thicker and has more protein than regular yogurt. Protein helps to keep us satisfied and helps repair muscle. Probiotics found in yogurt have been shown to assist with weight loss. The calcium in yogurt makes your fat cells release less cortisol. Cortisol is a negative hormone that produces glucose,which leads to elevated blood sugar levels. Low fat dairy can reduce blood pressure and support the immune system. Look for Greek yogurt that has between 100-150 calories, at least 10 grams of protein and no more than 20 grams of sugar per serving.
Almonds: Protein, monounsaturated fat (7 grams per serving), fiber and antioxidants make almonds a healthy addition to any diet. Studies have shown that those who consume almonds have better weight loss results. Almonds can also reduce blood pressure. Beware that almonds (as well as all nuts) are high in calories, so pay attention to serving sizes. 11 almonds are approximately 100 calories.
Cruciferous vegetables: Broccoli, cauliflower, Brussels sprouts, arugula, and cabbage are just some of the vegetables found in the cruciferous family. These vegetables are super high in fiber and very low calorie per serving. Eating high fiber foods that are low in calories not only helps us feel full longer, it helps us lower our overall caloric intake. They also have a high water content, which helps keep the body hydrated. Cruciferous vegetables can reduce oxidative stress. One of the phytochemicals found in cruciferous vegetables, sufloraphane can help reduce the risk of cancer. Munch on them raw as a snack when feeling hungry or lightly steam or roast to add needed fiber and nutrients to your daily routine.
Water: The best thing we can do to stay hydrated and maintain our weight is to drink water. It is the best sports drink, and with zero calories, the best option to sip throughout the day. You can add lemon, ginger, or mint to add some flavor. When you are not well hydrated, your body is not as efficient as it should be, and metabolism is affected. Studies have shown that those who have higher BMI's drink less water overall. Hydration helps us feel full. Often the sensation of hunger is actually dehydration, so before grabbing a snack, drink a glass of water first! Everyone is different, but we all should consume approximately 1.5 liters of water a day.
Beans: High in fiber, protein, and nutrients, beans should be a part of everyone's diet. Heart healthy and low in fat, they can lower cholesterol and triglyceride levels, hypertension, as well as control blood glucose. Consuming beans has been shown to reduce our risk of developing metabolic syndrome. They also can contribute to weight loss. The protein and fiber helps to keep us satisfied and eat less. Portion control is important, as there is a carbohydrate component to beans, which in large portion, could contribute to weight gain. When using beans instead of animal protein, ¼ cup beans equals 1 ounce of protein. (As an example, we should have 4-6 ounces of animal protein for dinner, which would equate to a cup of beans). Sprinkle them in salads, roast them for a snack or add them to soups and stews.
These are just some of the super foods we can incorporate into our diet to not only aide in weight loss, but weight maintenance!
Cauliflower Rice Pilaf
From: EatingWell Magazine, January/February 2017
Ingredients 6 servings
¼ cup toasted sliced almond
6 cups cauliflower florets (about 1 head)
3 tablespoons extra-virgin olive oil
2 cloves garlic, minced
½ teaspoon salt
¼ cup chopped fresh herbs, such as chives, parsley, cilantro and/or basil
2 teaspoons lemon zest
Preparation
Pulse cauliflower florets 2 cups at a time in a food processor until chopped into rice-size pieces.
Heat oil in a large skillet over medium-high heat. Add garlic and cook until fragrant, about 30 seconds. Add the cauliflower rice, sprinkle with salt and cook, stirring, until softened, 3 to 5 minutes. Remove from heat. Stir in almonds, herbs and lemon zest.
To make ahead: Refrigerate raw cauliflower "rice" (Step 1) for up to 3 days.
Nutrition information
Serving size: ⅔ cup each
Per serving: 114 calories; 9 g fat(1 g sat); 3 g fiber; 7 g carbohydrates; 3 g protein; 65 mcg folate; 0 mg cholesterol; 2 g sugars; 0 g added sugars; 110 IU vitamin A; 54 mg vitamin C; 39 mg calcium; 1 mg iron; 227 mg sodium; 361 mg potassium
Nutrition Bonus: Vitamin C (90% daily value)
Carbohydrate Servings: ½
Exchanges: 1 vegetable, 2 fat
A new study published in JAMA Otolaryngology–Head & Neck Surgery has shown there may be an alternative to medication, typically PPI treatment, for laryngopharyngeal reflux (LPR). Alkaline water and a plant based-Mediterranean-style diet. This study DID NOT research the benefits of this diet for those with GERD. It is important to note that LPR is different than classic acid reflux (GERD). LPR is a form of acid reflux, but it primarily affects the larynx and pharynx. the symptoms of LPR are: coughing, a choking sensation, sore throat, voice changes, throat clearing, sour or bitter taste in the mouth and burping. It is important to know whether you have LRP or GERD.
So, what is alkaline water and a plant based Mediterranean diet? Alkaline water has a higher pH than regular tap water, usually above 7. Alkaline water with a pH of 8 has the potential to neutralize pepsin, an enzyme connected to reflux disease. The more animal protein you consume, the higher the gastric load of Amino Acids. A plant based-mediterranean diet is a diet that focuses on healthy fruits, vegetables (8-11 servings a day), whole grains, olive oil, legumes, nuts and plant based proteins. There is a focus on lowering sodium and removing saturated fats. This diet is very heart healthy as well and has been found to lower LDL (low-density lipoprotein). This diet can also reduce risk of cancer, Parkinsons, Alzheimers, dementia and lower risk of obesity and weight gain.
It is important to note that if you are currently taking a PPI-proton pump inhibitor for LPR, you should NOT go off your treatment plan before speaking with your physician. Medication might still need to be a part of your treatment plan and this research is still new and emerging. That does not mean you can still reap benefits from an alkaline water/ plant based Mediterranean diet!
Mediterranean Edamame Toss
From: Diabetic Living Magazine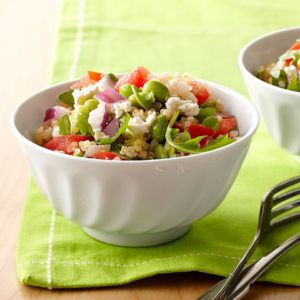 Ingredients 4 servings
½ cup uncooked quinoa, rinsed and drained
1 cup water
1 cup ready-to-eat fresh or frozen, thawed shelled sweet soybeans (edamame)
2 medium tomatoes, seeded and chopped
1 cup fresh arugula or spinach leaves
½ cup chopped red onion
2 tablespoons olive oil
1 teaspoon finely shredded lemon peel½ cup uncooked quinoa, rinsed and drained
1 cup water
1 cup ready-to-eat fresh or frozen, thawed shelled sweet soybeans (edamame)
2 medium tomatoes, seeded and chopped
1 cup fresh arugula or spinach leaves
½ cup chopped red onion
2 tablespoons olive oil
2 tablespoons lemon juice
¼ cup crumbled reduced-fat feta cheese
2 tablespoons snipped fresh basil
¼ teaspoon salt
¼ teaspoon freshly ground black pepper
Preparation
In a medium saucepan, combine quinoa and water. Bring to boiling; reduce heat. Cover and simmer about 15 minutes or until quinoa is tender and liquid is absorbed, adding edamame the last 4 minutes of cooking.
In a large bowl, combine quinoa mixture, tomato, arugula, and onion.
In a small bowl, whisk together olive oil, lemon peel, and lemon juice. Stir in half of the cheese, the basil, salt, and pepper. Add mixture to quinoa mixture, tossing to coat. Sprinkle with remaining half of the cheese. Serve at room temperature.
Nutrition information
Serving size: 1 cup
Per serving: 236 calories; 12 g fat(2 g sat); 5 g fiber; 23 g carbohydrates; 11 g protein; 58 mcg folate; 2 mg cholesterol; 4 g sugars; 856 IU vitamin A; 21 mg vitamin C; 108 mg calcium; 2 mg iron; 276 mg sodium; 321 mg potassium
Nutrition Bonus: Vitamin C (35% daily value)