Nonalcoholic Fatty Liver Disease (NAFLD) is a very common condition in the United States affecting over 3 million Americans a year. It is the buildup of fat in the liver, not caused by alcohol consumption. Although the cause is unknown, risk factors include obesity, type 2 diabetes, elevated cholesterol and gastric bypass surgery. Maintaining a healthy weight, eating a balanced diet and being physically active can reduce your risk of developing NAFLD. If you have been diagnosed, There are no specific medications for treatment, but there are things you can do.
Pay attention to the fats you consume: Reduce saturated fats-found in meat, chicken skin, butter, and full fat dairy. No more than 10% of total fat (goal less than 7%) should be saturated. Remove trans fat from your diet. They are strongly related to inflammation, elevated triglycerides and cholesterol. Look for hydrogenated or partially hydrogenated oils on a label. Even if the label says trans fat free, if these oils are listed in the ingredients, the product has trans fat. Increase polyunsaturated fats-Omega 3 fatty acids, nuts, seeds and oils and monounsaturated fats (32 grams a day)-olive oil. Keep total fat to no more than 25%-35% total calories. The Mediterranean diet has been shown to be beneficial for NAFLD. Include only healthy fats in your diet.
Reduce simple carbohydrate intake. Simple carbs and sugar increase triglyceride levels and increase insulin circulation. Choose more complex carbs and avoid white foods such as white sugar, flour, rice and pasta. Increase vegetables, fruits and whole grains.
Avoid high fructose corn syrup (HFCS). Studies have shown that fructose can predispose someone to fatty liver. Pay attention to food labels and avoid sugary soda/beverages and sweets. HFCS is found in many foods such as ketchup, peanut butter and baked goods.
Reduce alcohol consumption. Men should have no more than 2 alcoholic beverages a day and women should not consume more than 1 alcoholic beverage a day.
Increase physical activity. This improves insulin sensitivity, reduces risk of diabetes, assist in weight management and improves lipid profiles. The recommendations are to exercise 150 minutes per week moderately or 75 minutes a week at a vigorous intensity. You should also incorporate 2 or more days a week of resistance training.
Maintain a healthy weight. A loss of 10% total body weight can help improve NAFLD. Caloric restriction of 1200-1500 calories a day is recommended.
Consider supplementation. Although further studies are necessary, certain supplements have been shown to be helpful in treating NAFLD. Vitamin E-300-800IU. Do not take high doses of this supplement. Vitamin D, Omega 3 fatty acid and probiotics.
NAFLD does not always present with symptoms. It is important to talk to your doctor and an RD if you have been diagnosed with NAFLD. Lifestyle and behavior modification are the keys to treating this condition. Get to a healthy weight, pay attention to the foods you consume and move your body. You can do it!
Arctic Char on a Bed of Kale
From: EatingWell Magazine, September/October 2009
Arctic char, related to salmon and trout, is sustainably farmed, making it a "best choice" for the environment. It has a mild flavor and cooks up quickly. We like the taste and texture of lacinato (aka dinosaur) kale in this dish. Serve with mashed potatoes.
By: EatingWell Test Kitchen
Ingredients 4 servings
¼ teaspoon salt
1 tablespoon extra-virgin olive oil
1 large shallot, thinly sliced
1 cup reduced-sodium chicken broth
¼ cup water
1-1½ pounds kale, tough stems removed, coarsely chopped (14-16 cups)
1 pound skinned arctic char or salmon fillet, cut into 4 portions
¼ teaspoon freshly ground pepper
¼ cup reduced-fat sour cream
2 teaspoons prepared horseradish
1 tablespoon chopped fresh dill, or 1 teaspoon dried
4 lemon wedges for garnish
Preparation
Heat oil in a large skillet over medium heat. Cook shallot, stirring, until beginning to soften, about 2 minutes. Add broth, water and half the kale; cook, stirring, until slightly wilted, about 1 minute. Add the remaining kale and cook until tender, about 8 minutes.
Sprinkle fish with salt and pepper and place on the kale. Cover and cook until the fish is just cooked through, 5 to 7 minutes.
Meanwhile, combine sour cream, horseradish and dill in a bowl. Serve the fish and kale with the sauce and lemon wedges.
Nutrition information
Per serving: 334 calories; 16 g fat(3 g sat); 4 g fiber; 12 g carbohydrates; 37 g protein; 185 mcg folate; 90 mg cholesterol; 3 g sugars; 0 g added sugars; 11,557 IU vitamin A; 138 mg vitamin C; 254 mg calcium; 4 mg iron; 428 mg sodium; 1,186 mg potassium
Nutrition Bonus: Vitamin A (231% daily value), Vitamin C (230% dv), Folate (46% dv), Calcium (25% dv), Iron (22% dv)
Carbohydrate Servings: 1
Exchanges: 2 vegetable, 4 lean meat, 1 fat
Everyone is looking for ways to improve or increase their energy. The foods we eat can slow us down or rev us up. Processed foods and foods high in fat and added sugar as well as foods that are hard to digest, such as red meat, reduce our energy. But foods that are whole or minimally processed can provide us with a boost of energy. Our body needs a combination of carbohydrates, fat and protein to give our body the energy we need. We also need vitamins, minerals and fiber. Foods to incorporate in your diet to provide energy include:
Strawberries: A great source of manganese, Vitamin C, fiber and potassium, strawberries are mainly water. A top antioxidant loaded with polyphenols.
Apples: Rich in antioxidants, flavinoids and fiber. Can stabilize blood glucose and the carbohydrate can provide an energy boost.
Banana: Great source of carbohydrate, potassium and B6. Great energy boost on the run.
Blueberries: High in antioxidants and fiber. Delivers a slow release of energy.
Brown rice: Whole grain and high in fiber, manganese and selenium. Provides a steady release of energy throughout the day.
Fatty fish: Such as salmon and tuna, high in important Omega 3's, protein, and B vitamins. Fatty fish will provide energy all day.
Chickpeas: Contain protein, fiber and B9 which can give you a quick boost of energy.
Avocado: Great source of healthy fat and B vitamins.
Sweet potato: A healthy, carbohydrate rich food. Good source of beta carotene, vitamin C and fiber.
Spinach: A great source of non heme iron, but should sprinkle with lemon to increase iron absorption. Iron is a key part of energy production.
Almonds: Contains protein, fiber, manganese, copper and B2 (riboflavin).
Eggs: Great source of absorbable protein which provides energy.
Yogurt: Protein and probiotics abound as well as magnesium and phosphorus. Great food to start the day.
There are important lifestyle changes as well that boost energy tremendously:
Stay at a healthy weight and do not gain weight as you age.
Get enough sleep, its critical! Pay attention to your sleep hygiene. Get 7-9 hours of sleep a night. Have a cut off time for fluids to reduce night wakings.
Move your body. Even if you are feeling sluggish, a good workout can give you a boost of energy and improve mood.
Stay as well hydrated as possible-goal 48-64 ounces a day. Water is the best source of hydration.
Do not drink or smoke. Both sap energy and impact our metabolism.
Pay attention to stress-Try meditation, yoga or tai chi to reduce stress and find a place of calm.
Have social connections. Having good social supports has been shown to increase energy and give a better quality of life.
We all want to find that magic pill to create more energy and get through the day. The best way to support your body and have better energy is through whole, high quality foods and a healthy lifestyle. Find your balance. Its always important to pay attention to the way your body feels and get support when you need it.
Strawberry-Rhubarb Cobbler with Granola Streusel
From: EatingWell.com, February 2019
Tart rhubarb and sweet strawberries turn tender in their own juices beneath a brown sugar and oat crumble topping. This spring-inspired dessert comes together quickly without pie crusts to unroll; the tender fruit cooks quickly to make this a great last-minute dessert option too. Serve warm for the most luscious texture.
By: Sarah Epperson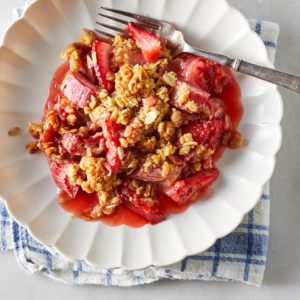 Ingredients 10 servings
Filling
3 cups quartered fresh strawberries
3 cups sliced fresh rhubarb or thawed frozen rhubarb
¼ cup granulated sugar
1 tablespoon cornstarch
1 tablespoon lemon juice

¼ teaspoon salt
Topping
½ cup lightly packed light brown sugar
½ cup old-fashioned rolled oats
⅓ cup whole-wheat pastry flour
¼ cup unsalted butter, softened
Preparation
To prepare filling: Preheat oven to 350°F. Coat an 11-by-7-inch baking dish with cooking spray.
Combine strawberries, rhubarb, granulated sugar, cornstarch, lemon juice and salt in a large bowl; transfer to the prepared baking dish.
To prepare topping: Combine brown sugar, oats, flour and butter in a medium bowl; stir until thoroughly combined. Crumble the topping evenly over the strawberry-rhubarb mixture.
Bake the cobbler until the topping is golden, 35 to 40 minutes. Cool on a wire rack for 5 minutes; serve warm or at room temperature.
Nutrition information
Serving size: ⅓ cup
Per serving: 151 calories; 5 g fat(3 g sat); 2 g fiber; 26 g carbohydrates; 2 g protein; 16 mcg folate; 12 mg cholesterol; 17 g sugars; 15 g added sugars; 185 IU vitamin A; 30 mg vitamin C; 42 mg calcium; 0 mg iron; 61 mg sodium; 193 mg potassium
Nutrition Bonus: Vitamin C (50% daily value)
Carbohydrate Servings: 1½
Exchanges: 1 fat, 1 other carbohydrate, ½ starch