There are so many reasons why we need to consume lots of fruits and vegetables every day. Fruits and vegetables reduce our risk of age related disease, dementia, oxidative stress, cognitive decline and poor cognition. But did you know that it can reduce our risk of anxiety and depression? There have been a number of studies regarding fruit and vegetables and mood, but the latest study, published in Social Science and Medicine, followed 50,000 people in the UK in regard to their fruit and vegetable consumption and their mood. There have been previous studies regarding plant consumption and mood, but this was the largest scale study. The results showed a correlation between fruit and vegetable consumption and well being. On average, there is an improvement in mood when people consumed at least 5 servings of fruit and vegetables a day. Consumption of plants is low in the United states. We should set a goal of 8-11 servings of fruit and vegetables a day, with an emphasis on the vegetables. What is a serving?
A serving of vegetable: one cup raw or 1/2 cup cooked.
A serving of fruit is a 1/2 cup cut or one small whole fruit such as a small apple.
It can seem daunting getting in all those servings, so how do you get them all in?
Add dark leafy greens such as spinach in your lasagna
Puree leftover vegetables into soups
Put greens, cucumber and tomato into sandwiches
Make dips/salsa with vegetables and fruit such as citrus and tomato
Bake with fruit purees instead of added sugar
Make zucchini or carrot noodles instead of pasta
Try cauliflower rice or whip instead of grains or potatoes
Make ice cubes with pureed fruit
Sample day of adding in your fruits and vegetables:
Breakfast: Fruit smoothie with non fat Greek yogurt or omelet with mixed vegetables
Lunch: Mixed salad with lots of vegetables or bag of steam fresh vegetables
Dinner: Add two sides of steamed vegetables such as broccoli and carrots
Snacks: Small pear and sliced peppers with hummus
There are so many benefits to consuming more plants, but the added benefit of increased mental well being is a huge incentive to prioritize consumption of fruits and vegetables. Make sure to eat the rainbow-vary the colors of the fruits and vegetables you consume and try different cooking methods to enhance the flavors and reduce boredom. Eat your fruits and vegetables-do not use supplements or supplemental powders to get in those servings. The next time you are feeling blue, reach for an apple instead of that cupcake. Your brain will thank you!
Balsamic & Parmesan Roasted Cauliflower
From: EatingWell Magazine, January/February 2008
Roasting isn't usually the first cooking method you think of for cauliflower but the results are quite delicious. The florets are cut into thick slices and tossed with extra-virgin olive oil and herbs. Wherever the flat surfaces come into contact with the hot roasting pan, a deep browning occurs that results in a sweet, nutty flavor.
Ingredients 4 servings
8 cups 1-inch-thick slices cauliflower florets, (about 1 large head; see Tip)
2 tablespoons extra-virgin olive oil
1 teaspoon dried marjoram
¼ teaspoon salt
Freshly ground pepper to taste
2 tablespoons balsamic vinegar
½ cup finely shredded Parmesan cheese
Preparation
Preheat oven to 450°F.
Toss cauliflower, oil, marjoram, salt and pepper in a large bowl. Spread on a large rimmed baking sheet and roast until starting to soften and brown on the bottom, 15 to 20 minutes. Toss the cauliflower with vinegar and sprinkle with cheese. Return to the oven and roast until the cheese is melted and any moisture has evaporated, 5 to 10 minutes more.
Tip: To prepare florets from a whole head of cauliflower, remove outer leaves. Slice off the thick stem. With the head upside down and holding a knife at a 45° angle, slice into the smaller stems with a circular motion—removing a "plug" from the center of the head. Break or cut florets into the desired size.
Cut Down on Dishes: A rimmed baking sheet is great for everything from roasting to catching accidental drips and spills. For effortless cleanup and to keep your baking sheets in tip-top shape, line them with a layer of foil before each use.
Nutrition information
Serving size: about 1 cup
Per serving: 152 calories; 10 g fat(3 g sat); 3 g fiber; 10 g carbohydrates; 7 g protein; 90 mcg folate; 7 mg cholesterol; 5 g sugars; 0 g added sugars; 99 IU vitamin A; 75 mg vitamin C; 163 mg calcium; 1 mg iron; 362 mg sodium; 519 mg potassium
Nutrition Bonus: Vitamin C (125% daily value), Folate (22% dv)
Carbohydrate Servings: ½
Exchanges: 1 vegetable, ½ lean meat, 1½ fat
Yogurt is one of those foods that people either love or hate, but beyond its versatility (can be savory or sweet) and all the new varieties (greek, Icelandic, plant based to name a few) there are tremendous health benefits. Yogurt is made by fermenting milk. For those that have lactose intolerance, probiotic rich or greek yogurt (which has been triple strained), tend to be well tolerated as they are lower in lactose. Some of the health benefits you can reap by incorporating yogurt into your diet include:
Great source of calcium, protein and vitamins and minerals-approximately 187 mg per serving of calcium. 17 grams of protein and Vitamins B2, B12, potassium, magnesium and phosphorus.
Bone and teeth health.
Aide in digestive health due to added cultures. Look for live, active cultures.
Can boost the immune system due to probiotics.
Maintain a healthy weight, as it can regulate hunger and stabilize blood glucose.
Potential brain function and cardiac health in low fat form.
It is important to find yogurts that are live and do not have added sugars or artificial sweeteners. Always look for yogurt with less than 15 grams of sugar per serving. Powdered yogurt used in such products as yogurt covered nuts and raisins do not have health benefits due to the heat treating process that kills all the healthy bacteria (so popping yogurt covered pretzels have no health benefits).
There are many ways to incorporate yogurt into your daily life. It can make a delicious salad dressing or spread/dip such as tzatziki-use a seeded diced cucumber, olive oil, lemon juice, garlic, salt, pepper and dill or mint. It is great added to a smoothie or pair with fruit, seeds and nuts for a high protein, morning breakfast or dessert treat. Experiment and find the brand and style that works for you.
Ricotta & Yogurt Parfait
From: EatingWell Magazine, November/December 2016
Reminiscent of a lemon cheesecake, this healthy breakfast recipe is easy to throw together in the morning. Or stir together the filling in a jar the night before and top with the fruit, nuts and seeds when you get to work.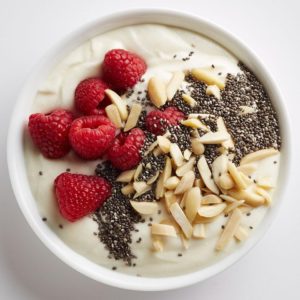 Ingredients 1 serving
¾ cup nonfat vanilla Greek yogurt
¼ cup part-skim ricotta
½ teaspoon lemon zest
¼ cup raspberries
1 tablespoon slivered almonds
1 teaspoon chia seeds
Preparation
Active 5 m
Ready In 5 m
Combine yogurt, ricotta and lemon zest in a bowl. Top with raspberries, almonds and chia seeds.
Nutrition information
Serving size: about 1¼ cups
Per serving: 272 calories; 10 g fat(3 g sat); 5 g fiber; 25 g carbohydrates; 22 g protein; 19 mcg folate; 24 mg cholesterol; 14 g sugars; 6 g added sugars; 251 IU vitamin A; 9 mg vitamin C; 385 mg calcium; 1 mg iron; 119 mg sodium; 398 mg potassium
Nutrition Bonus: Calcium (38% daily value)
Carbohydrate Servings: 1½