Magnesium is a mineral naturally found in the body and in certain foods. The human body contains approximately 25 grams of magnesium, of which 50-60% is stored in the skeletal system. It has many functions in the body. A few are: protein synthesis, muscle and nerve function, bone health, producing energy, muscle and nerve function, blood pressure regulation and helping to regulate blood glucose. The DRI's (Dietary Reference Intakes) for Magnesium Are 420 mg for adult males and 320 mg for adult women. Some people are at greater risk of developing magnesium deficiency. Those include: People with Crohn's disease, Celiac disease, Type 2 Diabetes, Alcoholics, and the elderly. These people should make sure they are consuming enough magnesium through food. Magnesium should mostly be consumed in food and is also available in supplemental form. Some good sources of Magnesium include:
Dairy-1 cup skim milk 27.8 mg
Cereals-1 cup oatmeal 57.6 mg
Rice-white 1/2 cup cooked 10 mg
Chicken-1 ounce 7.6 mg
Cod-1 ounce 9.9 mg
Shrimp 1 ounce 9.9 mg
Avocado-1 cup cubed 44 mg
Chard-1 cup 29 mg
Banana-1 medium 33 mg
Almonds- 1.4 cup 105 mg
Cashews-1/4 cup 89 mg
In supplemental form, you can find magnesium oxide, citrate and chloride. Zinc supplementation can interfere with the absorption of magnesium. If you are taking oral availability (such as Fosamax), separate supplementation of magnesium by at least two hours. If you are taking antibiotics, take two hours before or 4-6 hours after magnesium supplementation. PPI's used for acid reflux, such as Nexium can be tied to lower magnesium levels. Always check with your doctor if you are taking medications and you want to supplement with magnesium to check for possible interactions and absorption rates.
Supplementation can be used in higher doses for relief of constipation. It is the primary ingredient in Milk of Magnesia (500 mg elemental Mg). I recommend 500-800 mg of elemental magnesium for those experiencing constipation. It can also be used in lower doses for muscle relaxation, heart health as well as cognitive function and energy. Be aware that magnesium toxicity is possible if the body does not clear supplements properly. The most common signs are:
Hypotension
Nausea
Depression
Irregular heartbeat
Vomiting
Facial flushing
Difficulty breathing
For general health, I always recommend patients consume their magnesium in food form for its bio availability and safety.
Some of the most important benefits of magnesium are:
Hypertension and CVD-Magnesium intake can reduce the risk of atherosclerosis, stroke and can lower blood pressure. There have been many studies supporting the benefits of magnesium and heart health.
Type 2 Diabetes-Although there is insufficient evidence that routine use of magnesium can improve glycemic control in those with diabetes, diets with higher amount of magnesium have been shown to reduce risk of diabetes. This is probably due to magnesium's role in carbohydrate and glucose metabolism.
Osteoporosis-Since magnesium in involved in bone formation, it can improve bone density and is especially important for postmenopausal and elderly women.
Migraines-Magnesium deficiency has been associated with migraines. The American Migraine Foundation recommends supplemental Magnesium Oxide 400-500 mg to help prevent migraines.
Before starting any supplement, you should reach out to your physician and/or RD. Magnesium can easily be found in many foods and is a great addition to everyone's diet. We need magnesium to stay healthy, so do not ignore this nutrient!
Chard & Feta Tart
From: EatingWell Magazine, January/February 2008
Fragrant lemon zest, briny olives and salty feta balance the bitterness of the dark leafy greens in this Greek-inspired tart. The cracker like crust is quite sturdy so you can serve this as finger food at your next party or alongside a mixed green salad for a light supper.
Ingredients 8 servings
Crust
¾ cup whole-wheat pastry flour
¾ cup all-purpose flour
1½ tablespoons chopped fresh thyme, or oregano
¾ teaspoon salt
¾ teaspoon freshly ground pepper
⅓ cup extra-virgin olive oil
5 tablespoons cold water
Filling
2 teaspoons extra-virgin olive oil

6 cups chopped chard, (about 1 bunch), leaves and stems separatedCrust
¾ cup whole-wheat pastry flour
¾ cup all-purpose flour
1½ tablespoons chopped fresh thyme, or oregano
¾ teaspoon salt
¾ teaspoon freshly ground pepper
⅓ cup extra-virgin olive oil
5 tablespoons cold water
Filling
2 teaspoons extra-virgin olive oil
2 tablespoons minced garlic
2 tablespoons water
2 large eggs
1 cup part-skim ricotta cheese
1 teaspoon freshly grated lemon zest
⅛ teaspoon freshly ground pepper
½ cup chopped pitted kalamata olives
⅓ cup crumbled feta cheese
Preparation
To prepare crust: Combine whole-wheat flour, all-purpose flour, thyme (or oregano), salt and ¾ teaspoon pepper in a bowl. Make a well in the center and add ⅓ cup oil and 5 tablespoons water. Gradually stir the wet ingredients into the dry to form a soft dough. Knead on a lightly floured surface until the dough comes together. Wrap in plastic and chill for 15 minutes.
Preheat oven to 400F. Coat a 9-inch tart pan with removable bottom with cooking spray.
Roll the dough into a 12-inch circle on a lightly floured surface. Transfer to the prepared pan and press into the bottom and up the sides. Trim any overhanging dough and use it to patch any spots that don't come all the way up the sides. Prick the bottom and sides with a fork in a few places. Bake the crust until firm and lightly brown, 20 to 22 minutes. Let cool on a wire rack for at least 10 minutes.
To prepare filling: Meanwhile, heat 2 teaspoons oil in a large skillet over medium heat. Add chard stems and cook, stirring, until just tender, about 2 minutes. Add garlic and cook, stirring, until fragrant, about 15 seconds. Add chard leaves and 2 tablespoons water and cook, stirring, until the leaves are just tender and the water has evaporated, 2 to 5 minutes. Transfer the greens to a sieve over a bowl and let drain and cool for 5 minutes. Whisk eggs, ricotta, lemon zest and ⅛ teaspoon pepper in a large bowl. Fold in the greens, olives and feta. Pour the filling into the crust. Bake the tart until the top is lightly browned and a knife inserted in the center comes out clean, 30 to 35 minutes. Let cool for 10 minutes before cutting into wedges.
Make Ahead Tip: Store at room temperature for up to 2 hours.
Equipment: 9-inch tart pan with removable bottom
Nutrition information
Serving size: 1 slice
Per serving: 191 calories; 12 g fat(3 g sat); 1 g fiber; 14 g carbohydrates; 6 g protein; 11 mcg folate; 41 mg cholesterol; 1 g sugars; 1,262 IU vitamin A; 7 mg vitamin C; 99 mg calcium; 1 mg iron; 351 mg sodium; 126 mg potassium
Nutrition Bonus: Vitamin A (25% daily value)
Carbohydrate Servings: 1
Exchanges: 8 servings: 1 starch, 1 vegetable, 1 medium-fat meat, 2½ fat 12 servings: 1 starch, ½ medium-fat meat, 2 fat
Many people have become aware of the benefits of probiotics, but very few people are familiar with prebiotics. Both pre and probiotcs are considered functional foods. Prebiotics are non-digestable fibers and carbohydrates, primarily oligosaccharides, resistant starches, pectin and beta glucans, that work synergistically with probiotics to populate the colon with healthy bacteria. Promising research in the Journal Biotech, show that there is great potential in the usage of pre and probiotics to assist with obesity, cancer, hypersensitivity, vascular diseases and degenerative ailments. Although this research has just begun, the positive benefits of consuming prebiotics cannot be denied. A large part of your immune function is in the GI tract, so by populating your GI tract with healthy bacteria, you are improving your immune function and that in turn makes for a healthier you! Try and consume at least 5-8 grams of prebiotic a day. The best sources of prebiotic foods are:
Chicory root-64.6% fiber by weight 9.3 grams (~1/3 ounce)-can be found in health food stores and commonly used in the south as a replacement for coffee.
Jerusalem Artichokes-31.5% fiber by weight 19 grams (~3/4 ounce)-Not actually an artichoke, but a Sunchoke a root like vegetable, has the potential to create stomach upset, so consume sparingly.
Asparagus-5% fiber by weight 120 grams (1/4 pound)-Steamed, grilled or roasted, a lightly flavored vegetable.
Garlic-17.5% fiber by weight 34.3 grams (1,2 ounce)-Best consumed raw, add it to salad dressings, salsa or hummus.
Onions-8.6% fiber by weight 120 grams (1/4 pound)-Onions have the same potential whether cooked or raw so enjoy in abundance!
Dandelion greens-24.3% fiber by weight-Try instead of your regular salad greens or lightly steamed with a drizzle of olive oil. They have a very mild flavor.
Leeks-11.7% fiber by weight 51.3 grams (1.8 ounce)-Closely related to onions and garlic, The can be used in a similar way to onions. Make sure you split them and rinse very well, as they can have lots of dirt and grit within the stalk.
Banana-1% fiber by weight 600 grams (1.3 pounds)-The greener bananas that are greener (not fully ripe) have a higher prebiotic content
Raw Wheat bran-5% fiber by weight 120 grams (1/4 pound)-Also found in health markets and now more readily available, can be sprinkled in your morning smoothie or yogurt parfait.
Cooked Wheat flour-4.8% fiber by weight-make sure the grains are 100% whole wheat.
I feel it is best to consume prebiotics through food, but supplements are also available. Some good brands include:
Benefiber
Prebiothrive-Gundry MD
Prebiotin prebiotic fiber powder
The food we consume has power and adding prebiotics to your daily routine is a healthy way to strengthen your GI tract and your immune function. Add small amounts at a time, as prebiotics in large doses can create some gas and bloating as your body adjusts to the new foods-but this passes and is rare.
Leek, Asparagus & Herb Soup
From: EatingWell Magazine, Spring 2003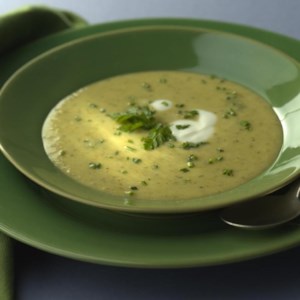 Like a bouquet of fresh vegetables, this light but soothing soup is just the thing on a cool spring evening. It is important to cut the green vegetables into small pieces so they cook quickly, while retaining their bright color.
Ingredients 6 servings
1 tablespoon extra-virgin olive oil
2 medium leeks, trimmed, washed and finely chopped (1½ cups)
2 cloves garlic, minced
½ pound new potatoes, scrubbed and diced (about 1⅔ cups)
2 cups reduced-sodium chicken broth, or vegetable broth
1 pound fresh asparagus, trimmed and cut into ½-inch pieces (1½-2 cups)
⅔ cup snow peas, or sugar snap peas, stemmed and cut into ½-inch dice
3 tablespoons chopped fresh chives, divided
2 tablespoons chopped fresh flat-leaf parsley
1 tablespoon chopped fresh dill
2 teaspoons chopped fresh chervil, (see Ingredient note) or flat-leaf parsley, plus sprigs for garnish
2 cups 1% milk
1 tablespoon lemon juice
¼ teaspoon salt, or to taste
Freshly ground pepper, to taste
⅓ cup low-fat plain yogurt, for garnish
May we suggest
NATURE'S OWN® PERFECTLY CRAFTED BREAD
Thick sliced, bakery style bread in white or multigrain
ADVERTISEMENT
Preparation
25 m
40 m
Heat oil in a large saucepan over medium-low heat. Add leeks and cook, stirring often, until softened but not browned, about 5 minutes. Add garlic and cook, stirring, for 1 minute.
Add potatoes and broth; bring to a simmer over medium-high heat. Cover and reduce heat to medium-low. Simmer, stirring occasionally, until the potatoes are tender, 10 to 15 minutes.
Increase heat to medium-high and stir in asparagus and peas; simmer, covered, stirring 2 or 3 times, until just tender, 3 to 4 minutes. Remove from heat; stir in 1 tablespoon chives, parsley, dill and chopped chervil (or parsley). Transfer the soup to a blender and blend until smooth. (Use caution when pureeing hot liquids.)
Return the soup to the pan. Add milk and bring to just below a simmer, stirring, over medium heat. Stir in lemon juice, salt and pepper. Ladle into soup bowls. Garnish each serving with a dollop of yogurt, a sprinkling of the remaining chopped chives and a sprig of chervil (or parsley).
Make Ahead Tip: Prepare through step 3. Cover and refrigerate for up to 8 hours.
Ingredient Note: Chervil (from the Greek for "herb of rejoicing") has a mild flavor between those of parsley and anise. It doesn't dry well, so is best used fresh.
Nutrition information
Serving size: 1 cup
Per serving: 116 calories; 3 g fat(1 g sat); 2 g fiber; 17 g carbohydrates; 6 g protein; 52 mcg folate; 4 mg cholesterol; 6 g sugars; 0 g added sugars; 1,074 IU vitamin A; 21 mg vitamin C; 136 mg calcium; 2 mg iron; 326 mg sodium; 492 mg potassium
Nutrition Bonus: Vitamin C (35% daily value), Vitamin A (21% dv)
Carbohydrate Servings: 1
Exchanges: ½ starch, ½ reduced-fat milk, 1 vegetable, ½ fat