Pulses are the edible seeds of plants in the legume family. Dry beans (kidney, lima, butter), dry peas, chickpeas and lentils are all pulses. These plant foods are loaded with heart healthy protein, fiber, complex carbohydrate and vitamins as well as amino acids. They are also a very affordable plant protein source. Studies published in Advances in Nutrition and The American Journal of Clinical Nutrition showed that consumption of pulses can increase satiety (the sensation of fullness) and increase weight loss. The slowly digestible carbohydrate and high fiber content can also assist with maintaining a healthy blood glucose level. Pulses provide a steady, slow burning energy. When cooking pulses, soak them for 4-8 hours to bring them back to life and activate their enzymes. It will reduce cooking time and make them more digestible. For those that have issues with gas, products such as Beano can also assist with digestion of pulses. So what are some of the nutritional values of a few pulses?
Legumes-1 cup has 230 calories, 0 grams fat, 40 grams total carbohydrate, 18 grams protein, 731 mg Potassium, 36 % DV (daily value) Iron, 20% DV B6, 17% DV Magnesium and 5% DV Vitamin C.
Green Peas-1 cup 118 calories, o grams fat, 21 grams total carbohydrate, 8 grams protein, 354 mg Potassium, 22% DV Vitamin A, 96% DV Vitamin C, 11% DV Iron, 10% DV B6, 12% DV Magnesium.
Pinto Beans-1 cup has 670 calories, 2.4 grams total fat, 121 grams total carbohydrate, 41 grams protein, 2688 mg Potassium, 21% DV Calcium, 20% DV Vitamin C, 54% DV Iron, 45% DV Vitamin B6, 85% DV Magnesium.
Pulses should be a part of everyone's diet. Loaded with Iron, B vitamins and fiber, they are heart healthy, assist with weight loss, can help lower cholesterol and stabilize blood glucose. They are affordable and readily available. A great way to do a meatless Monday and reduce animal consumption.
Very Green Lentil Soup
From: EatingWell Soups Special Issue April 2016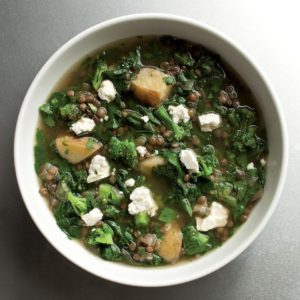 Ingredients8 servings
2 tablespoons extra-virgin olive oil, plus more for garnish
2 large yellow onions, chopped
1¼ teaspoons salt, divided
2 tablespoons plus 4 cups water, divided
1 cup French green (Le Puy) or brown lentils
8 large green chard leaves
1 medium Yukon Gold potato, scrubbed
12 cups gently packed spinach (about 10 ounces), any tough stems trimmed
4 scallions, cut into 1-inch pieces
5 cups vegetable broth, store-bought or homemade
2 cups chopped broccoli
1 tablespoon cumin seeds, lightly toasted and ground (see Tip)
½ teaspoon ground coriander
Freshly ground pepper to taste
1 cup chopped fresh cilantro
2 tablespoons chopped fresh mint
½ jalapeño pepper, minced
1 tablespoon fresh lemon juice, or more to taste
Crumbled feta cheese for garnish
Preparation

· Active 1 h 5 m
· Ready In 1 h 20 m
Heat 2 tablespoons oil in a large skillet over high heat. Add onions and ¼ teaspoon salt; cook, stirring frequently, until the onions begin to brown, about 5 minutes. Reduce the heat to low, add 2 tablespoons water and cover. Cook, stirring frequently until the pan cools down, and then occasionally, always covering the pan again, until the onions are greatly reduced and have a deep caramel color, 25 to 35 minutes.
Meanwhile, rinse lentils and pick out any small stones; combine the lentils with the remaining 4 cups water in a soup pot or Dutch oven. Bring to a boil. Reduce heat to maintain a simmer, cover and cook for 20 minutes. Trim the white ribs out of the chard; chop the greens and slice the ribs (keep in separate piles). Cut potato into ½ -inch dice. Chop spinach; set aside.
When the lentils have cooked for 20 minutes, stir in the chard ribs, potato, scallions, broth and the remaining 1 teaspoon salt; return to a gentle simmer. Cover and cook for 15 minutes.
Stir in the chard leaves, broccoli, cumin and coriander. When the onions are caramelized, stir a little of the simmering liquid into them; add them to the soup. Return to a simmer, cover and cook 5 minutes more. Stir in the reserved spinach, cilantro, mint, jalapeno and pepper; return to a simmer, cover and cook until the spinach is tender but still bright green, about 5 minutes more. Stir in 1 tablespoon lemon juice. Taste and add more lemon juice and/or pepper, if desired. Garnish each bowl of soup with a drizzle of olive oil and crumbled feta cheese.
· Make Ahead Tip: Cover and refrigerate for up to 3 days.
· Tip: Toast cumin seeds in a skillet over medium heat, stirring occasionally, until fragrant, about 2 minutes. Cool slightly. Grind to a fine powder in a spice mill, blender or clean coffee grinder.
Nutrition information
Serving size:
about 1⅔ cups
Per serving: 181 calories; 4 g fat(1 g sat); 9 g fiber; 29 g carbohydrates; 9 g protein; 206 mcg folate; 0 mg cholesterol; 5 g sugars; 0 g added sugars; 5,008 IU vitamin A; 28 mg vitamin C; 119 mg calcium; 5 mg iron; 535 mg sodium; 793 mg potassium
Nutrition Bonus: Vitamin A (100% daily value), Folate (52% dv), Vitamin C (47% dv), Iron (28% dv)
Carbohydrate Servings: 2
Exchanges: 1½ starch, 1 vegetable, 1 lean meat, 1 fat

Many people choose to go gluten free for weight loss and to "feel healthy".  Should you go gluten free?  The short answer is no, not unless you have to!
First lets define gluten.. Gluten is the protein found in certain grains: wheat (wheat berries, durum, emmer, semolina,spelt, farina, farro, graham, kamut, einkorn), barley, rye, triticale and contaminated oats (those that have been processed in a factory that also processes other grains-so they must be identified as gluten free to be safe for patients that have gluten intolerances).
Who needs to be on a gluten free diet?  People that have been identified to have Celiac disease,  gluten intolerance (non-celiac gluten sensitivity) or wheat allergy MUST remove gluten from their diet. If you suspect one of these conditions, you should see a gastroenterologist and be tested. Testing involves blood tests and possibly a biopsy. Once diagnosed, it is important to meet with a Registered Dietitian to understand a gluten free diet, hidden sources of gluten and possible supplement needs.
For weight loss or overall health, there is NO evidence whatsoever (let me reiterate-NONE) that a gluten free diet assists in weight loss or overall health.  Many gluten free foods are higher in sugar and fat to replace the gluten in processed foods.  Many Americans get a large percentage of certain B vitamins (especially B9) from fortified grains.  By removing gluten, you may also be losing out on these important nutrients.  Wheat products are also an excellent source of fiber, which is essential to keep in our diet.  The American Heart Association also recommends consuming whole grains to assist with lowering triglyceride levels. People that consume higher levels of fiber tend to have lower triglycerides. A very interesting new study has also linked going gluten free to increased risk of developing Type 2 Diabetes later in life. Although new research, just one more reason to rethink going gluten free if you are not gluten sensitive.
You are not doing harm by going gluten free (although you should be doing it with the guidance of an RD)…but it is NOT a way to lose weight or be healthier. Paying attention to caloric intake, moving your body and eating a whole, well balanced diet is the best way to lose weight and promote health and wellness.
Chickpea-Farro Salad
Cooking Light: SIDNEY FRY, MS, RD OCTOBER 10, 2016
ACTIVE TIME10 mins
TOTAL TIME10 mins
YIELD
Serves 4 (serving size: about 2/3 cup)
Diets higher in whole grains have been linked to lower levels of inflammation and cognitive decline; whole grains are a staple in the Mediterranean and DASH (Dietary Approaches to Stop Hypertension) diets. This salad combines brain-boosting farro, chickpeas, and olive oil with the bright crunch of fresh celery. Simple, quick, and delicious.
Ingredients
2 tablespoons extra-virgin olive oil
1 tablespoon red wine vinegar
2 tablespoons minced shallots
1/2 teaspoon kosher salt
1/4 teaspoon freshly ground black pepper
1 cup cooked farro
1 cup canned organic chickpeas, rinsed and drained
1/2 cup diced celery
1/2 cup coarsely chopped celery leaves

calories 171
fat 8 g
satfat 1 g
monofat 5.1 g
polyfat 1.1 g
protein 4 g
carbohydrate 21 g
fiber 4 g
cholesterol 0.0 mg
iron 1 mg
sodium 347 mg
calcium 34 mg
sugars 2 g
Est. Added Sugars 0 g
NUTRITION INFORMATION
How to Make It
Combine first 5 ingredients in a large bowl, stirring well with a whisk. Add remaining ingredients; toss to coat.