We are living in stressful and uncertain times and the majority of the country is under some form of a stay at home order. By the way…. PLEASE DO!!!! Many people have reached out to say they have been eating too much while at home and eating things they normally wouldn't in large quantities. So, what can you do? First and for most, do not be in denial about your feelings. It is more than OK to feel stress, anxiety, loneliness and fear during this time, but it is not a good idea to stay in denial about it. Feel it and embrace this time as an opportunity to do/visualize all the things you would like to be when this passes. We all say we never have enough time to do the things we want or need to do. Now we have that time. Here are just a few things to stop that stress eating while at home.
Go back to food journaling. Stay accountable to yourself for what you are eating. Food has power and it can give us strength or it can create disease. Have frozen and canned vegetables and fruits, beans, fish-whatever you can get to stay healthy
Do not work/entertain where you eat. Keep those environments very separate. What will you do in a room full of food? EAT. so do not plop your laptop or puzzle down on the kitchen table, move it far away from the kitchen.
Try a new exercise or start to exercise! So many trainers and sites are offering free workouts online while we are all inside staying safe. Maybe you always wanted to try yoga, barre or zumba. Now is the time to go for it. Add in those things you never had time for before, like stretching and balance practice.
Meditate. Now more than ever, we need a practice to help lower those cortisol levels and keep us grounded. Breathe in and out, deeply, say this too shall pass, try and app: Headspace, Happify, or Calm for example.
Keep your sleep, eating and wake cycles consistent. Just because we have no where to go does not mean we should not keep a routine. It will help with cravings and keep you grounded.
Stay as well hydrated as possible with a goal of 8, eight ounce glasses of water a day.
Practice gratitude. Find at least one thing to be grateful for each day. It can change your perspective on how you feel. You don't have to stay home, you get to stay home to be safe. Be thankful for all those that are helping during this time: Doctors, nurses, support staff, postal workers, pharmacists, grocers, garbage collectors and more….
Read that good book that you never had time for, watch an educational program or listen to a podcast. Harvard Health has some great ones, listen to a TED talk, watch some youtube or a comedy special.
Practice some indulgent self care. Take a bubble bath, do a facial mask, mani/pedi or body scrub-create a spa in your house.
Clean that closet/basement/attic that you have been avoiding because you never have time!
I truly hope that when we flatten the curve and return to some sense of normalcy, we will have all learned not to take anything for granted, appreciate who and what we have and that we will be better, more giving people with a new perspective. Stay safe and healthy. Please listen to CDC guidelines: Stay home, practice self distancing, wash your hands, don't touch your face, if you must go out wear a mask (but save N95 for health practitioners or the immunocompromised)-there are plenty of sites online showing how to make your own mask at home. Sending love and prayers to all.
White Bean, Sweet Potato and Kale Soup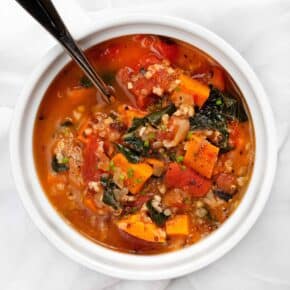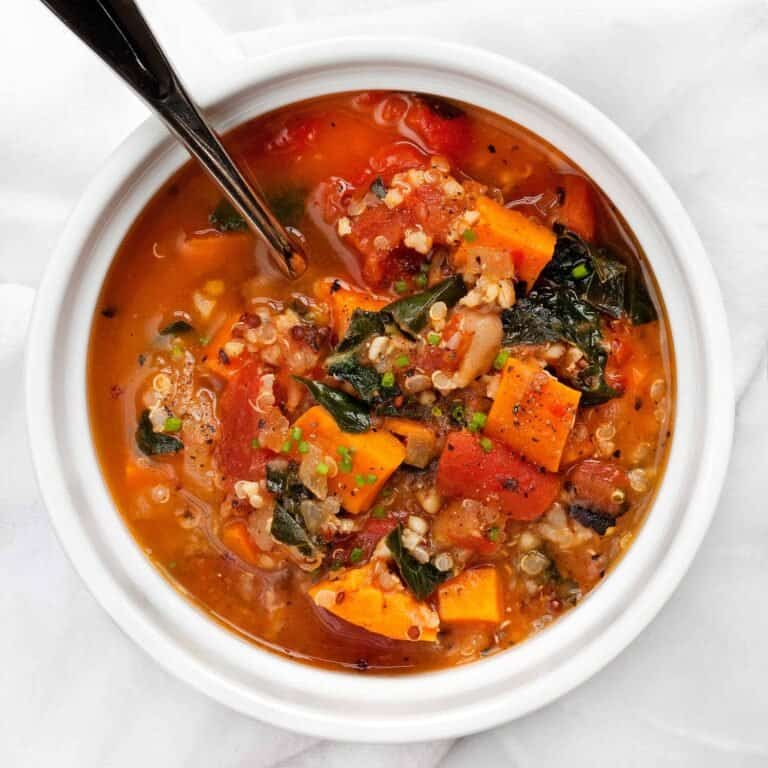 Total Time: 35-40 minutes
Yield: Serves 6 1x
INGREDIENTS
1 small white onion, roughly chopped
2 garlic cloves, minced
1/2 teaspoon crushed red pepper flakes
1 teaspoon kosher salt plus more for serving
1/2 teaspoon black pepper plus more for serving
1-14.5 ounce can fire-roasted diced tomatoes
5 cups vegetable stock
1 medium sweet potato, peeled and diced
1-15.5 ounce can cannellini beans, drained and rinsed
3/4 cup quinoa, rinsed in cold water
2 cups roughly chopped Lacinato kale, stems removed
INSTRUCTIONS
Heat the olive oil in a large saucepan over medium high heat. Sauté the onions until they start to soften, about 3-5 minutes. Add the garlic, red pepper flakes, salt, pepper and cook for another minute until fragrant.
Stir in the tomatoes, stock, sweet potatoes and beans. Bring to a boil, reduce heat and simmer for 15 minutes. Add the quinoa and continue simmering for 10 minutes. Stir in the kale and simmer for 5 minutes until it has wilted.
Season with additional salt and pepper to taste before serving.
You cannot turn on the news, listen to the radio or talk to a friend without Corona virus being discussed. I am not going to get into statistics or the global impact that this virus is having, the CDC and the Department of Health are wonderful resources for that, but I do want to discuss the basics of how to stay as healthy as possible and things that you can do. For those who feel this is nothing to be concerned about or that it does not affect them, think not just about yourself, but those that are at greatest risk. This is NOT just another flu. Now is a time to think not just about yourself, but others as well. What are the most important basics we can do?-P.S.-we should ALWAYS do these things!
Wash your hands for 20 seconds. Turn on the water, put your hands under running water to get them wet, then turn off the water and apply soap. Lather with soap and rub together vigorously-front, back and nails. Scrub for at least 20 seconds. Rinse and dry your hands thoroughly.
Do not touch your face-seriously, its harder than you think! Don't shake hands.
If you have a fever or cough, STAY HOME.
Social distancing-Staying within 6 feet of others, do not put yourself in large groups right now. This does not mean to ignore those you love. Have common sense. Keep distance from those at greatest risk-those that are elderly or who have immunodeficiency. Check in on those in need. See if they need groceries delivered, call/skype/facetime to let people know you care. Help when and where you can.
Do not use Google as a resource for how to take care of yourself. There is way too much misinformation floating around on the internet. Look for well known, respected sites for information. We cannot mega dose vitamins or take oregano oil for example to wish away Corona virus, but we can strengthen our immune system to help keep us as healthy as possible. Beyond food, getting good quality sleep for 7-9 hours, keeping a healthy weight, quit smoking, only consume alcohol in moderation, reduce stress (hard right about now!) and exercising help with immune function. Some healthy food choices-by no means all food available, to incorporate into your diet include:
Sweet potato: Have a high Beta Carotene content, an antioxidant that helps protect the body from free radicals.
Blueberries: Contain flavinoids, Vitamin C, A, potassium and manganese.
Beans: A great plant based source of protein, beans play an important role in building cells.
Oily Fish: Fish such as salmon, mackerel, sardines and tuna are high in EPA and DHA-important Omega 3's.
Dark leafy greens: Loaded with fiber, iron, calcium, Vitamins C and K and folate.
Probiotic rich foods: Foods such as yogurt, keffir, sauerkraut and kimchi can help boost gut function.
Almonds: Contain Vitamin E, manganese, fiber and magnesium.
Green Tea: Polyphenols-another antioxidant are found in green tea-more specifically, the polyphenol called catechins.
Avoid fast food, refined, highly processed foods, high sodium meals, artificial sweeteners and greasy, high fat foods.
Now is a time of high stress and anxiety. Take this time to create new, healthy habits. Add more vegetables and fruits into your diet-the more color, the better, try meditation or watch a new show to reduce stress, start that exercise routine you vowed to start in January, reflect on how you can make positive change, reach out to those most affected and offer help where you can. Be considerate of those around you. This too shall pass, but until it does, please follow these guidelines. If you do feel ill, call your healthcare provider before you go into the office. Many facilities are putting protocols into place to make sure we all stay as safe as possible. Do not strain the resources that health professionals need-do not wear masks unless you feel ill, and do not take medical stock-gloves, masks, gowns out of medical facilities, which are limited as it is. Listen to only reputable sources and stay safe.
Southwestern Three-Bean & Barley Soup
Serve this zesty bean and barley soup garnished with chopped fresh cilantro and a squeeze of lime, if desired. Source: EatingWell Soups Special Issue April 2016
Recipe Summary
Total: 2 hrs 15 mins
Servings: 6
Ingredients
Ingredient Checklist
1 tablespoon extra-virgin olive oil
1 large onion, diced
1 large stalk celery, diced
1 large carrot, diced
9 cups water
4 cups (32-ounce carton) reduced-sodium chicken broth, "no-chicken" broth or vegetable broth
½ cup pearl barley
⅓ cup dried black beans
⅓ cup dried great northern beans
⅓ cup dried kidney beans
1 tablespoon chili powder
1 teaspoon ground cumin
½ teaspoon dried oregano
¾ teaspoon salt
Directions
Instructions Checklist
Heat oil in a Dutch oven over medium heat. Add onion, celery and carrot and cook, stirring occasionally, until softened, about 5 minutes. Add water, broth, barley, black beans, great northern beans, kidney beans, chili powder, cumin and oregano. Bring to a lively simmer over high heat. Reduce heat to maintain a simmer and cook, stirring occasionally, until the beans are tender, 1¾ to 2½ hours (adding more water, ½ cup at a time, if necessary or desired). Season with salt.
Tips
Make Ahead Tip: Cover and refrigerate for up to 3 days.
Nutrition Facts
Serving Size: About 1 1/3 Cups
Per Serving:
205 calories; 3.2 g total fat; 0.5 g saturated fat; 455 mg sodium. 466 mg potassium; 36.4 g carbohydrates; 10.6 g fiber; 3 g sugar; 8.8 g protein; 2463 IU vitamin a iu; 4 mg vitamin c; 110 mcg folate; 83 mg calcium; 3 mg iron; 65 mg magnesium;
Exchanges:
2 Starch, 1 Vegetable, 1 Lean Meat, 1/2 Fat