Celiac Disease is a serious Autoimmune disease, where the consumption of gluten leads to inflammation of the small intestine. The body is unable to break down the gluten. Gluten is found in wheat, barley and rye. What is gluten? It is the protein in grains that is responsible for the elastic texture of dough. Celiac disease is hereditary, which means if you have a first degree relative with Celiac Disease, you should pay attention to symptoms. 1 in 10 people with a first degree relative with Celiac Disease have the risk of developing the disease. What are some of the symptoms of Celiac Disease?
Gas and bloating
Fatigue
Weight loss
Chronic Diarrhea
Brain fog
Delayed growth
Pale, bad smelling, or fatty stool (oil skimming bowl after movement)
ADHD
If you suspect that you may have celiac disease, you should not just go on a gluten free diet. You need to get tested! How do you do that?
Tissue Transglutaminase Antibodies (tTG-IgA)-You must not be gluten free when you take this blood test. It is 98% accurate but it can have both false positive and false negative results.
Colonoscopy or endoscopy-A biopsy of the small intestine along with blood work can help rule out the false negative/positive results.
IgA Endomysial antibody (EMA): This test is very expensive and is used for only very difficult to diagnose cases.
Total serum IgA: This might be the first test your doctor orders before doing the tTg-IgA test.
Deaminated gliadin peptide (DGP IgA and IgG): One more blood test the doctors can use to help diagnose Celiac Disease.
There is hidden gluten in many foods, so how do you know what to avoid if you have Celiac Disease? It will be very important that you learn how to read labels and become a good detective. This is a list of foods you MUST not consume:
All wheat products: wheat starch, bran, germ
durum
emmer
semolina
spelt
farina
farro
graham
Kamut
einkorn wheat
Rye
Barley
Triticale
Malt in various forms including: malted barley flour, malted milk or milkshakes, malt extract, malt syrup, malt flavoring, malt vinegar
Brewer's Yeast
Fu
Matzo
Couscous
Seitan
Soy Sauce
Oats that are not certified gluten free
There are many foods that can contain gluten such as: Pasta, noodles, crackers, soups, lunch meats, candy, granola bars, certain dried seasoning and spices….the list goes on, so you will need to investigate labels. It is also important to note that some cosmetics, over the counter vitamins and supplements, and medications can contain gluten, so always ask. There are great Apps that can help you decipher what foods to avoid:
The gluten detective
Gluten Free-Allergy Free Marketplace
Gluten free scanner
Find me gluten free
Allergy eats
It is VERY important not to cross contaminate if you have Celiac Disease. This means that anything that comes into contact with gluten (utensils, pots, pans, toasters, cutting boards, containers, fryers, etc.) must not be used. Learn to mark and separate your non gluten kitchen items. If you have Celiac disease, you cannot consume even a crumb of gluten.
Newly diagnosed patients may have nutrient deficiencies. It is important to meet with your physician and an RD to make sure you are eating a well balanced diet and have the proper nutrients. Some of the possible nutrient deficiencies are:
Fiber
Iron
Calcium
Magnesium
Zinz
Folate
Niacin
Riboflavin
Vitamin B12
Vitamin D
If left undiagnosed or untreated (not following a gluten free diet), Celiac Disease can lead to the development of other autoimmune disorders like Type I diabetes and multiple sclerosis (MS), dermatitis herpetiformis , anemia, osteoporosis, infertility and miscarriage, neurological conditions, short stature, and intestinal cancers, so it is very important if you suspect Celiac Disease to see your doctor as soon as possible. You can lead a very healthy life with Celiac Disease, you just need to know the facts and get the help of an RD!
Zucchini Noodles with Avocado Pesto & Shrimp
From: EatingWell.com, January 2017
Ingredients 4 servings
5-6 medium zucchini (2¼-2½ pounds total), trimmed
¾ teaspoon salt, divided
1 ripe avocado
1 cup packed fresh basil leaves
¼ cup unsalted shelled pistachios
2 tablespoons lemon juice
¼ teaspoon ground pepper
¼ cup extra-virgin olive oil plus 2 tablespoons, divided
3 cloves garlic, minced
1 pound raw shrimp (21-25 count), peeled and deveined, tails left on if desired
1-2 teaspoons Old Bay seasoning-it is gluten free!
Preparation
Prep 35 m
Ready In 35 m
Using a spiral vegetable slicer or a vegetable peeler, cut zucchini lengthwise into long, thin strands or strips. Stop when you reach the seeds in the middle (seeds make the noodles fall apart). Place the zucchini "noodles" in a colander and toss with ½ teaspoon salt. Let drain for 15 to 30 minutes, then gently squeeze to remove any excess water. Meanwhile, combine avocado, basil, pistachios, lemon juice, pepper and the remaining ¼ teaspoon salt in a food processor. Pulse until finely chopped. Add ¼ cup oil and process until smooth. Heat 1 tablespoon oil in a large skillet over medium-high heat. Add garlic and cook, stirring, for 30 seconds. Add shrimp and sprinkle with Old Bay; cook, stirring occasionally, until the shrimp is almost cooked through, 3 to 4 minutes. Transfer to a large bowl. Add the remaining 1 tablespoon oil to the pan. Add the drained zucchini noodles and gently toss until hot, about 3 minutes. Transfer to the bowl, add the pesto and gently toss to combine.
Nutrition information
Serving size: 1¾ cups each
Per serving: 446 calories; 33 g fat(5 g sat); 7 g fiber; 16 g carbohydrates; 26 g protein; 112 mcg folate; 159 mg cholesterol; 7 g sugars; 0 g added sugars; 1,144 IU vitamin A; 55 mg vitamin C; 141 mg calcium; 2 mg iron; 713 mg sodium; 1,271 mg potassium
Nutrition Bonus: Vitamin C (92% daily value), Folate (28% dv), Vitamin A (23% dv)
Carbohydrate Servings: 1
Exchanges: 6 fat, 3 lean protein, 1½ vegetable
As the summer holiday season is upon us, there are super healthy ways to enjoy and indulge in BBQ foods. A few changes and paying attention to food safety are key.
Utilize vegetables on the grill-marinate with balsamic vinegar, garlic, fresh herbs, citrus. Portobello mushrooms, zucchini, onions, tomatoes, peppers…make vegetables the centerpiece on the grill. Make sure at least half of your plate is loaded with veggies!
Use the leanest cuts of meat, chicken and fish/shellfish. Keep raw proteins refrigerated until ready to use-40 degrees or below. Make sure all foods are cooked to the proper temperature: Whole poultry: 165 °F, Poultry breasts: 165 °F, Ground poultry: 165 °F, Ground meats: 160 °F, Beef, pork, lamb, and veal (steaks, roasts and chops): 145 °F and allow to rest at least 3 minutes for optimal juiciness. Cut off charred pieces from protein as they can pose a cancer risk. Heterocyclic amines (HCAs) , chemical compounds released by charring the protein in meats can be carcinogenic.
Do NOT cross contaminate. Do not put cooked food on the same platter that you placed your raw foods. The same goes for utensils.
To reduce risk of charring, cut off all visible fat and put down foil between your food and the grill. This can reduce the release of polycyclic aromatic hydrocarbons (PAHs) from meats.
Wrap your burger or other protein in lettuce wraps instead of carb heavy buns/bread.
Switch out mayo based salads for vinegar based salads-try a german potato salad instead of a heavy, calorie laden basic potato salad. Look for other side options, like the recipe below!
Instead of the usual hotdogs, look for all natural-no nitrate based dogs. Nitrates have been linked to cancer and should be limited. Applegate Farms make a few great non nitrate options.
Pay attention to alcohol consumption-Remember that a serving of alcohol is: 5 ounces wine, a 1.1 ounce shot of liquor or 1, 12 ounce light beer. These are empty calories. Try adding ice and or seltzer to a glass of wine to make it last longer (and it is refreshing in the hot weather), or opt for a non alcoholic beer. Better yet, stay hydrated with flavored water or seltzer.
Cut up fruit and serve as dessert. Summer is the perfect season for a healthy fruit salad. Hollow out a watermelon and it makes the perfect platter for a gorgeous display of fruit and a much healthier dessert option.
BBQ is a flavorful, summertime staple. You can enjoy as long as you are mindful and make smart choices on your plate.
Hasselback Tomato Caprese Salad
From: EatingWell.com, May 2017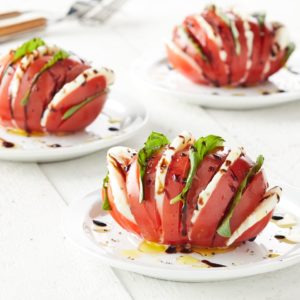 Ingredients 4 servings
4 medium tomatoes, cored
3 ounces fresh mozzarella, thinly sliced into 16 pieces
16 fresh basil leaves
¼ teaspoon salt
¼ teaspoon ground pepper
2 tablespoons extra-virgin olive oil
1 tablespoon balsamic glaze (see Tip)
Preparation

· Prep 20 m
· Ready In 20 m
Place tomatoes cored-side down on a cutting board. Make 8 cuts down each tomato, slicing almost to the bottom (or core) but not all the way through. Carefully transfer the tomatoes to a serving platter. Fill each cut alternately with mozzarella and basil. Sprinkle with salt and pepper. Drizzle with oil and balsamic glaze.
· Tip: Balsamic glaze is balsamic vinegar that's cooked until it's very thick. Look for it with other vinegars in well-stocked supermarkets.
Nutrition information
Serving size:
1 tomato
Per serving: 146 calories; 11 g fat(3 g sat); 2 g fiber; 7 g carbohydrates; 6 g protein; 22 mcg folate; 14 mg cholesterol; 5 g sugars; 1 g added sugars; 1,233 IU vitamin A; 17 mg vitamin C; 183 mg calcium; 0 mg iron; 283 mg sodium; 317 mg potassium
Nutrition Bonus: Vitamin C (28% daily value), Vitamin A (25% dv)
Carbohydrate Servings: ½
Exchanges: 1½ fat, 1 vegetable, ½ medium-fat protein