There is a lot of interest in eating clean, but there is confusion about what that truly means. Eating clean is consuming as few unprocessed or minimally processed foods as possible. Unfortunately, some people incorporate foods that they think are healthy and trends that are considered clean, but in reality, are not. If you chose to eat healthy, and in balance, you will reduce risk of certain disease states such as diabetes, heart disease and cancer. That is not to say that choosing another plan will make you unhealthy or sick. Everyone is different and it is a personal choice. Clean eating does not mean being rigid about food choices. It is also important to note that eating clean can be more expensive, but there are ways to eat healthy and clean without breaking the bank. So, what are the dos and don'ts of true clean eating?
Limit/eliminate processed foods. Food processing takes whole foods and by chemical or physical means turn them into processed foods. Avoid packaged, canned (if you do, rinse multiple times), and frozen meals (or look for organic) when possible.
Eat more plants! The more whole, natural plants that we eat-not supplements or powders, the better for our bodies. I also recommend to eat plants that are local and in season. They will have a higher nutrient value. We should aim for 8-11 servings a day. If you do not have access to fresh fruits and vegetables look for frozen, with no sauces, salt or sugars added.
Keep your grains whole. Look for 100% whole grain foods and try and avoid white, unbleached flour or white rice. Whole grains provide us with more fiber, nutrients, can assist with constipation and can reduce risk of heart disease.
Pay attention to GMO's. GMO's are genetically modified organisms. If buying packaged foods, look for verified or certified GMO free. Natural foods that have the highest risk of being GMO are corn, beets, soy, wheat, tomatoes. When possible, buy organic versions of these whole foods.
Look for safe protein sources. When possible, look for wild fish, cage free eggs and organic poultry. Incorporate plant based forms of protein such as beans, legumes, nuts, seeds and soy to reduce the animal load.
Do not eat foods that may be trendy, but not whole or clean. Coconut oil is a huge trend, but it is still considered a saturated fat and not healthy. Agave is the same as any other sugar-it actually has a higher level of fructose, and should be limited. Cold pressed juices and gluten free products are not clean or especially healthy either. Social media or popularity do not make things healthy or clean.
Avoid added sugar and sodium. Sugar is NOT a nutrient and therefore I do not offer recommendations for how much you can consume. The American Heart Association says women should limit added sugar to 6 teaspoons a day-24 grams (4 small squares of milk chocolate for example) and men 9 teaspoons-36 grams. It is easier to reach that in a day than you think, especially if you consume too many processed foods. Sodium should be limited to no more than 2300mg a day. That equals 1 level teaspoon a day.One tablespoon of regular soy sauce has 1000 mg of sodium! It is important to read labels and decipher their nutrient value.
What is important to remember is that there should be no judgement about how we eat. But it is beneficial to try and eat whole, unprocessed foods as frequently as we can. There is no "right" or "wrong" way to eat. We just need to find our balance.
Salmon & Asparagus with Lemon-Garlic Butter Sauce
From: EatingWell.com, February 2018
Ingredients 4 servings
1 pound center-cut salmon fillet, preferably wild, cut into 4 portions
1 pound fresh asparagus, trimmed
½ teaspoon salt
½ teaspoon ground pepper
3 tablespoons butter
1 tablespoon extra-virgin olive oil
½ tablespoon grated garlic
1 teaspoon grated lemon zest
1 tablespoon lemon juice
Preparation
Preheat oven to 375°F. Coat a large rimmed baking sheet with cooking spray.
Place salmon on one side of the prepared baking sheet and asparagus on the other. Sprinkle the salmon and asparagus with salt and pepper.
Heat butter, oil, garlic, lemon zest and lemon juice in a small skillet over medium heat until the butter is melted. Drizzle the butter mixture over the salmon and asparagus. Bake until the salmon is cooked through and the asparagus is just tender, 12 to 15 minutes.
Nutrition information
Serving size: 1 piece salmon & about 5 spears asparagus
Per serving: 269 calories; 16 g fat(7 g sat); 2 g fiber; 6 g carbohydrates; 25 g protein; 73 mcg folate; 76 mg cholesterol; 2 g sugars; 0 g added sugars; 1,289 IU vitamin A; 10 mg vitamin C; 79 mg calcium; 3 mg iron; 351 mg sodium; 667 mg potassium
Nutrition Bonus: Vitamin A (26% daily value)
Carbohydrate Servings: ½
Exchanges: 3½ lean protein, 2½ fat, 1 vegetable
Cholesterol is a waxy, fatty substance naturally found in blood and produced in the liver-and consumed in food. It has many functions in the body, such as cell membrane support, bile production, Vitamin D production and hormone production-So its not entirely bad!. There are two forms of cholesterol in the body, LDL (the bad) and HDL (the good). Elevated levels of LDL (low density lipoprotein) are associated with increased risk of heart disease. It collects in the walls of your blood vessels and can create blockages. HDL (high density lipoprotein) absorbs cholesterol and carries it back to the liver, where it then gets flushed out. It is also important to understand triglycerides. Triglycerides are the fat found in our blood, and elevated levels increase our risk of stroke. So, what are the important numbers to know?
Total Cholesterol: Less than 200
HDL: 40 or higher for men, 50 or higher for women
LDL: Less than 100
Triglycerides: Less than 149
It is easy and important to know your numbers. All it takes is a simple blood test. There are a number of ways to lower/maintain a healthy lipid profile, but is is important to know that there is also a genetic predisposition to elevated cholesterol so family history is important. What can you do to protect your heart and lower your numbers or do once you have elevated numbers?
Maintain a healthy weight: Being at an unhealthy weight can increase cholesterol, triglycerides and LDL. Even a decrease of 5-10% total body weight can have great improvement on heart health. So, staying within a healthy BMI range is important for heart health long term.
Exercise: Getting that blood flowing helps to elevate HDL and lower LDL numbers. It is recommended to move our bodies at least 30 minutes most days (approximately 150 minutes each week). Find something you love and do it on a regular basis.
Healthy diet: Foods high in soluble fiber, such as apples, oats, citrus, berries and whole grains naturally pull cholesterol out of the body, so, increase them in your diet. Increase Omega rich foods such as fatty fish-salmon, halibut, anchovies, as well as nuts, seeds and soy. Eliminate all trans fat-Margarine, foods with hydrogenated oils and fried foods. Decrease consumption of saturated fats such as butter, animal fat and full fat dairy and increase mono-unsaturated fats such as olive oil and avocado. It is important to note that research has shown that certain foods such as eggs and shrimp are safe to consume, because dietary consumption of these foods do not have a significant impact on blood cholesterol. There are people who are called "hyper responders", a genetic condition, and those people should limit these foods and discuss there risks with their physician or RD.
Medications: When lifestyle changes are not enough, it might be time to consider medications called statins that help to lower lipids found in blood. It is always important to discuss benefits and risks before taking statin medications. There are some alternatives such as intestinal agents, niacin, fibrates, and bile acid binders, but that decision should be made under the supervision of your physician.
Maintaining a healthy lifestyle is the best thing you can do for heart health, but it is important to know your numbers and if elevated, discuss options with your physician and RD!
Almond-&-Lemon-Crusted Fish with Spinach
From: EatingWell Magazine, January/February 2011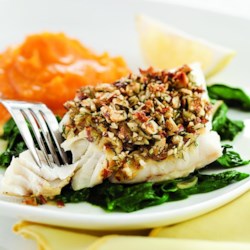 Ingredients 4 servings
Zest and juice of 1 lemon, divided
½ cup sliced almonds, coarsely chopped
1 tablespoon finely chopped fresh dill or 1 teaspoon dried
1 tablespoon plus 2 teaspoons extra-virgin olive oil, divided
1 teaspoon kosher salt, divided
Freshly ground pepper to taste

1¼ pounds cod (see Tip) or halibut, cut into 4 portions
4 teaspoons Dijon mustard
2 cloves garlic, slivered
1 pound baby spinach
Lemon wedges for garnish
Preparation
Preheat oven to 400°F. Coat a rimmed baking sheet with cooking spray.
Combine lemon zest, almonds, dill, 1 tablespoon oil, ½ teaspoon salt and pepper in a small bowl. Place fish on the prepared baking sheet and spread each portion with 1 teaspoon mustard. Divide the almond mixture among the portions, pressing it onto the mustard.
Bake the fish until opaque in the center, about 7 to 9 minutes, depending on thickness.
Meanwhile, heat the remaining 2 teaspoons oil in a Dutch oven over medium heat. Add garlic and cook, stirring, until fragrant but not brown, about 30 seconds. Stir in spinach, lemon juice and the remaining ½ teaspoon salt; season with pepper. Cook, stirring often, until the spinach is just wilted, 2 to 4 minutes. Cover to keep warm. Serve the fish with the spinach and lemon wedges, if desired.
Tip: Look for U.S. wild-caught Pacific halibut, U.S. Pacific cod or Atlantic cod from Iceland and the northeast Arctic. For more information, visit Monterey Bay Aquarium Seafood Watch at seafoodwatch.org.
Easy cleanup: Recipes that require cooking spray can leave behind a sticky residue that can be hard to clean. To save time and keep your baking sheet looking fresh, line it with a layer of foil before you apply the cooking spray.
Nutrition information
Per serving: 244 calories; 12 g fat(1 g sat); 4 g fiber; 8 g carbohydrates; 27 g protein; 146 mcg folate; 67 mg cholesterol; 1 g sugars; 0 g added sugars; 9,174 IU vitamin A; 18 mg vitamin C; 169 mg calcium; 4 mg iron; 508 mg sodium; 853 mg potassium
Nutrition Bonus: Vitamin A (183% daily value), Folate (36% dv), Vitamin C (30% dv), Iron (22% dv)
Carbohydrate Servings: ½
Exchanges: 1 vegetable, 3 lean meat, 2 fat