One of the most frequent questions I am asked is, how much protein do I really need. Before I answer that question, what is protein and why do we need it? Proteins are the building blocks of bone, muscle, cartilage, skin and blood as well as a fuel source. They are made of amino acids, organic compounds found in every cell of our body. Enzymes are proteins that speed up chemical reactions. Proteins transport materials throughout the body and are necessary to form blood cells. Every gram of protein has 4 calories, the same as a carbohydrate. Dietary sources of protein include both animals and plants, but there is a difference.
Plant based proteins have healthy unsaturated fat and fiber, whereas animal proteins contain saturated fat, which we need to limit in our diet. Most Americans consume way more animal proteins than plant proteins.
There are three types of protein:
Complete proteins- Contain all amino acids and are found in animal products: meat, poultry, fish, dairy and eggs.
Incomplete proteins-Contain at least one amino acid, but not all. Plant foods are predominantly incomplete. (soy and quinoa are complete)
Complementary proteins-When you combine two incomplete proteins to form a complete protein such as rice and beans.
The Academy of Nutrition and Dietetics, as well as DRI (Dietary Reference Intake) recommends that the average person needs .8 grams (g) per kilogram (kg) of body weight. If you are doing intense weight or endurance training, recovering from an illness or pregnant, the number increases to 1.2-2.0g/kg. So how do you calculate this?
First calculate your weight in kilograms (kg) by dividing your weight in pounds by 2.2.
Multiply your weight in kilograms (kg) times the number of protein grams per day.
Example: 135 pound sedentary woman, who does regular moderate exercise:
135 pounds/2.2=61.36 kg, 61.36kg x .8=49 grams of protein per day.
In the United State, we do not have standardized units of measure, so although we calculate protein in grams, most people are more familiar with pounds and ounces. Below is a helpful guide to assist you in converting some proteins from ounces to grams.
Chicken, skinless-3 ounces=28 grams
Red meat-3 ounces=26 grams
Turkey- 3ounces=25 grams
Lamb- 3 ounces=23 grams
Pork-3 ounces=22 grams
Egg- 1 large=6 grams
Salmon 3 ounces=22 grams
Tuna-3 ounces=22 grams
shrimp-3 ounces=20 grams
Pinto beans-1/2 cup=11 grams
Lentils-1/2 cup=9 grams
Edamame-1/2 cup=9 grams
Black Beans-1/2 cup=8 grams
Chickpeas-1/2 cup=7 grams
Quinoa-1/2 cup=4 grams
Pasta, cooked-1/3 cup=3 grams
Peas-1/2 cup=4 grams
Broccoli-1 cup raw-2.6 grams
Brussels sprouts-1 cup=3 grams
Spinach-1/2 cup=3 grams
Tofu-1/2 cup=11 grams
Pumpkin seeds-1 ounce=9 grams
Peanut butter-1 Tablespoon=7 grams
Almonds-1 ounce=6 grams
Chia seeds-1 ounce=5 grams
Walnuts-1 ounce=4 grams
Cashews-1 ounce=4 grams
Greek yogurt-6 ounces=18 grams
Cottage cheese-4 ounces=14 grams
Skim milk-1 cup=8 grams
Non fat string cheese-1 piece=6 grams
Protein helps to keep you feeling full longer, which can aide with weight loss. Consuming healthy amounts of protein helps to preserve and build muscle mass. That is not to say more is better. Always aim to consume lean protein, low in saturated fat and avoid processed carbohydrates. Eat a variety of proteins. Choose low fat cooking methods such as: broil, grill, bake, roast, grill and poach. Pay attention to labels, especially of high protein bars and shakes as they are usually loaded with sugar or artificial sweeteners. I recommend limiting red meat and increasing fish and plant sources of protein. Occasionally make your whole day plant based-beans, peas, nuts, seeds, whole grains and other plant sources and see how you feel! When in doubt, ask your RD how much protein you need to meet your daily requirements.
Spaghetti Squash with Roasted Tomatoes, Beans & Almond Pesto
From: EatingWell Magazine, January/February 2017
Looking at a tangle of spaghetti squash tricks your brain into thinking you're about to eat a serving of eggy noodles, when in fact, you get a nice calorie and carb savings in this healthy recipe. Giving tomatoes a stint in a hot oven makes them candy-sweet.
By:Karen Ansel, M.S., R.D.N.
Ingredients 4 servings
Almond Pesto
2 cups fresh basil leaves
1 cup fresh parsley leaves
½ cup grated Parmesan cheese
⅓ cup whole raw almonds
1 clove garlic
1½ tablespoons red-wine vinegar
¼ teaspoon kosher salt
¼ teaspoon ground pepper
¼ cup extra-virgin olive oil
¼ cup water
Spaghetti Squash & Vegetables
1 3-pound spaghetti squash
¼ cup water
2 pints grape tomatoes, halved
1 tablespoon extra-virgin olive oil
¼ teaspoon kosher salt
¼ teaspoon ground pepper
1 cup canned cannellini beans, rinsed
Preparation
To prepare pesto: Pulse basil, parsley, Parmesan, almonds, garlic, vinegar and ¼ teaspoon each salt and pepper in a food processor until coarsely chopped, scraping down the sides. With the motor running, add ¼ cup oil; process until well combined.
Add water to the pesto in the food processor; pulse to combine.
To prepare squash & vegetables: Preheat oven to 400°F. Line a rimmed baking sheet with foil.
Halve squash lengthwise and scoop out the seeds. Place cut-side down in a microwave-safe dish and add water. Microwave on High until the flesh can be easily scraped with a fork, about 15 minutes.
Meanwhile, toss tomatoes with oil, salt and pepper in a large bowl. Transfer to the prepared baking sheet. Roast until soft and wrinkled, 10 to 12 minutes. Remove from the oven. Add beans and stir to combine.
Scrape the squash flesh into the bowl and divide among 4 plates. Top each portion with some of the tomato-bean mixture and about 3 tablespoons pesto sauce.
To make ahead: Refrigerate pesto (Step 1) for up to 5 days.
Tips: Turn leftovers into a pesto-turkey sandwich for lunch: Spread 1½ Tbsp. leftover pesto on 2 slices toasted whole-wheat bread. Top with 3 oz. sliced deli turkey, 2 lettuce leaves and 2 tomato slices.
Nutrition information
Serving size: 1½ cups each
Per serving: 400 calories; 26 g fat(4 g sat); 10 g fiber; 37 g carbohydrates; 12 g protein; 140 mcg folate; 8 mg cholesterol; 12 g sugars; 0 g added sugars; 3,780 IU vitamin A; 47 mg vitamin C; 262 mg calcium; 4 mg iron; 499 mg sodium; 1,020 mg potassium
Nutrition Bonus: Vitamin C (78% daily value), Vitamin A (76% dv), Folate (35% dv), Calcium (26% dv), Iron (22% dv)
Carbohydrate Servings: 2½
Exchanges: 1½ starch, 1 vegetable, ½ lean meat, 4½ fat
The gold standard for management of Pre diabetes and Diabetes is weight management, a healthy, balanced diet and exercise. There are supplements or certain foods that can also help to stabilize blood glucose and assist with management of DM2. It is important to always consult with your physician before taking any supplement. Supplements should never be used to replace medical treatment. Some of the supplements and foods most studied include:
Alpha Lipoic Acid: A naturally occurring fatty acid and protein antioxidant. This supplement may increase insulin sensitivity and help to reduce blood glucose. It can also help to reduce the symptoms of peripheral neuropathy. The recommended dosage is 600 mg.
Chromium: A trace metal. Chromium places an essential role in normal insulin function. Foods high in chromium include-Broccoli (1/2 cup), Green beans (1/2 cup), 1 medium apple, 1 small banana. Try incorporating these foods into your diet.
Cinnamon: A spice derived from the inner bark of a tree. Cinnamon has been shown in small studies to curb blood sugar by lowering insulin resistance. Look for the Ceylon variety of cinnamon. The recommended dosage is 250 mg in extract form two times a day before meals.
American Ginseng: An herb found in North America. Some strong studies have shown this herb can lower post prandial (after meal) blood glucose levels as well as fasting blood glucose by improving the secretion of insulin. The dosage is 1 gram 1-2 hours before meals. DO not take this herb if you are also taking warfarin or immunosuppressant medications.
Magnesium: An Essential nutrient for the brain and body. It helps regulate blood sugar. It is found in many foods such as: Bran, seeds, nuts and spinach. A study in the Journal Diabetes Care, oral supplementation for people who have decreased serum magnesium levels helped to improve insulin sensitivity and metabolic control.
Tumeric: A flowering plant. May improve blood sugar levels as well as hyperlipidemia. The dosage is between 500-1000 mg. Each teaspoon has approximately 200 mg. This medication interacts with common acid reflux medications such as omeprazole, famotidine, cimetidine, esomeprazole, lansoprazole and ranitidine.
The best way to control Pre diabetes and diabetes is to stay at a healthy weight, eat a whole, complete diet, monitor carbohydrates and stay active. There are many supplements that have blends to provide glucose control as well. Talk with your physician or RD if these or other supplements could be of benefit to you.
Vegetarian Butternut Squash Chili with Black Beans
From: EatingWell.com, August 2019
Black beans and tender, sweet butternut squash make this healthy vegetarian chili truly satisfying. Load up bowls and top with Greek yogurt, cilantro and minced red onion for game night or a Meatless Monday meal. Or skip the yogurt and keep this healthy dinner vegan.
By:Katie WebsterEatingWell Recipe Contributor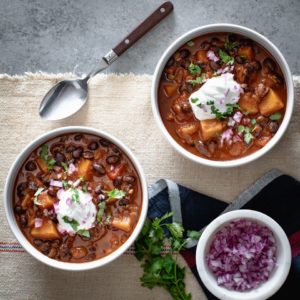 Ingredients 6 servings
1 tablespoon plus 1 teaspoon avocado oil or canola oil
4 cloves garlic, minced
1 large onion, diced
½ teaspoon salt
2 tablespoons chili powder
1 tablespoon ground cumin
¼ teaspoon ground cinnamon
¼ teaspoon ground chipotle chile, or to taste
2 cups no-salt-added vegetable broth
3 cups cubed butternut squash
2 (14 ounce) cans black beans, rinsed and drained
1 (14 ounce) can no-salt-added crushed tomatoes
1 (14 ounce) can no-salt-added diced tomatoes
½ cup Greek yogurt, for serving
¼ cup chopped fresh cilantro, for serving
¼ cup minced red onion, for serving
Preparation
Heat oil in a large heavy-bottomed soup pot or Dutch oven over medium-high heat. Add garlic, onion and salt; cook, stirring often, until starting to brown, 4 to 6 minutes. Add chili powder, cumin, cinnamon and chipotle and stir to coat. Cook, stirring often, until the spices are fragrant but not scorched.
Add broth and squash; increase heat to high and bring to a simmer, stirring occasionally. Cover, reduce heat to medium-low and simmer until the squash is tender, 18 to 20 minutes.
Stir in black beans, crushed tomatoes and diced tomatoes. Increase heat to medium-high and bring to a simmer, stirring often.
Reduce heat to medium-low and simmer, uncovered and stirring often, until the flavors have melded and the chili is thickened, 5 to 7 minutes. Serve the chili topped with a dollop of yogurt and sprinkled with cilantro and red onion, if desired.
To make ahead: Cover and refrigerate for up to 3 days or freeze for up to 3 months.
Nutrition information
Serving size: 1⅓ cups
Per serving: 246 calories; 5 g fat(0 g sat); 12 g fiber; 41 g carbohydrates; 11 g protein; 17 mcg folate; 0 cholesterol; 7 g sugars; 0 g added sugars; 7,857 IU vitamin A; 22 mg vitamin C; 128 mg calcium; 4 mg iron; 396 mg sodium; 580 mg potassium
Nutrition Bonus: Vitamin A (157% daily value), Vitamin C (37% dv), Iron (22% dv)
Carbohydrate Servings: 2½