Why You Should Eat Yogurt
Yogurt is one of those foods that people either love or hate, but beyond its versatility (can be savory or sweet) and all the new varieties (greek, Icelandic, plant based to name a few) there are tremendous health benefits. Yogurt is made by fermenting milk. For those that have lactose intolerance, probiotic rich or greek yogurt (which has been triple strained), tend to be well tolerated as they are lower in lactose. Some of the health benefits you can reap by incorporating yogurt into your diet include:
Great source of calcium, protein and vitamins and minerals-approximately 187 mg per serving of calcium. 17 grams of protein and Vitamins B2, B12, potassium, magnesium and phosphorus.
Bone and teeth health.
Aide in digestive health due to added cultures. Look for live, active cultures.
Can boost the immune system due to probiotics.
Maintain a healthy weight, as it can regulate hunger and stabilize blood glucose.
Potential brain function and cardiac health in low fat form.
It is important to find yogurts that are live and do not have added sugars or artificial sweeteners. Always look for yogurt with less than 15 grams of sugar per serving. Powdered yogurt used in such products as yogurt covered nuts and raisins do not have health benefits due to the heat treating process that kills all the healthy bacteria (so popping yogurt covered pretzels have no health benefits).
There are many ways to incorporate yogurt into your daily life. It can make a delicious salad dressing or spread/dip such as tzatziki-use a seeded diced cucumber, olive oil, lemon juice, garlic, salt, pepper and dill or mint. It is great added to a smoothie or pair with fruit, seeds and nuts for a high protein, morning breakfast or dessert treat. Experiment and find the brand and style that works for you.
Ricotta & Yogurt Parfait
From: EatingWell Magazine, November/December 2016
Reminiscent of a lemon cheesecake, this healthy breakfast recipe is easy to throw together in the morning. Or stir together the filling in a jar the night before and top with the fruit, nuts and seeds when you get to work.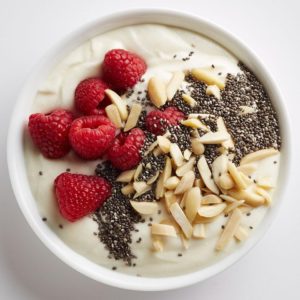 Ingredients 1 serving
¾ cup nonfat vanilla Greek yogurt
¼ cup part-skim ricotta
½ teaspoon lemon zest
¼ cup raspberries
1 tablespoon slivered almonds
1 teaspoon chia seeds
Preparation
Active 5 m
Ready In 5 m
Combine yogurt, ricotta and lemon zest in a bowl. Top with raspberries, almonds and chia seeds.
Nutrition information
Serving size: about 1¼ cups
Per serving: 272 calories; 10 g fat(3 g sat); 5 g fiber; 25 g carbohydrates; 22 g protein; 19 mcg folate; 24 mg cholesterol; 14 g sugars; 6 g added sugars; 251 IU vitamin A; 9 mg vitamin C; 385 mg calcium; 1 mg iron; 119 mg sodium; 398 mg potassium
Nutrition Bonus: Calcium (38% daily value)
Carbohydrate Servings: 1½