Why We Should Eat A More Plant Based Diet
It has been long established that eating a more plant based diet can lower risks of heart disease, reduce blood pressure and decrease risk of type 2 diabetes and stroke. There is also a correlation between animal proteins and cancer. The American Cancer Society recommends eating a healthy diet with an emphasis on plant foods. It is also easier to lose and maintain a healthy weight when you consume a more plant based diet. Fruits, veggies, legumes, nuts and seeds have fewer calories and saturated fat than animal proteins (and cost less too!). A recent study in JAMA found that there is a direct link between mortality and  a high animal protein diet and that a high plant protein diet had an inverse relationship to mortality. This study focused primarily on red meat. So do you need to become a vegetarian to live a long healthy life? NO, But reducing red meat consumption, increasing fish and poultry and significantly increasing vegetable protein such as nuts, seeds, legumes and tofu are highly recommended. I say, start with one day a week that you commit to being meatless.  The governments started a campaign called "Meatless Monday" many years ago. Check out the website for great recipes and ideas for reducing animal protein and getting creative with food. Some easy ways to start:
Try a tofu stir fry with tons of veggies for dinner
Swap out that hamburger for a bean burger (recipe below-not entirely meatless as there is yogurt, but super yum)
Make a vegetarian taco salad with black beans and pinto beans
Cook a big pot of hearty lentil soup
Swap out your regular cheese for soy or nut cheeses in your recipes
Add beans or tofu to your salad instead of the usual animal protein
Snack on hummus or nut butter on a rice cake
Even eating meatless one day a week can make great benefits to your health. Reduce red meat as much as possible and enjoy all the benefits that plant foods provide! You do not have to be a vegetarian or vegan to live a long, healthy life. Practice moderation with animal protein and increase those veggies!
Chickpea Burgers & Tahini Sauce
EatingWell Magazine August/September 2006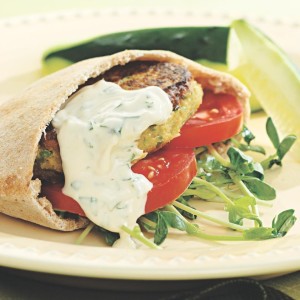 Ingredients:
4 servings
Chickpea burgers
1 19-ounce can chickpeas, rinsed
4 scallions, trimmed and sliced
1 egg
2 tablespoons all-purpose flour
1 tablespoon chopped fresh oregano
1/2 teaspoon ground cumin
1/4 teaspoon salt
2 tablespoons extra-virgin olive oil
2 6-1/2-inch whole-wheat pitas, halved and warmed, if desired
Tahini sauce
1/2 cup low-fat plain yogurt
2 tablespoons tahini, (see Ingredient note)
1 tablespoon lemon juice
1/3 cup chopped flat-leaf parsley
1/4 teaspoon salt
Place chickpeas, scallions, egg, flour, oregano, cumin and salt in a food processor. Pulse, stopping once or twice to scrape down the sides, until a coarse mixture forms that holds together when pressed. (The mixture will be moist.) Form into 4 patties.
Heat oil in a large nonstick skillet over medium-high heat. Add patties and cook until golden and beginning to crisp, 4 to 5 minutes. Carefully flip and cook until golden brown, 2 to 4 minutes more.
To prepare sauce & serve: Meanwhile, combine yogurt, tahini, lemon juice, parsley and salt in a medium bowl. Warm pitas, if desired. Divide the patties among the pita halves and serve with the sauce.
Make Ahead Tip: Cover and refrigerate the uncooked burger mixture and tahini sauce for up to 2 days.
Ingredient Note: Tahini is a thick paste made from ground sesame seeds. Look for it in the Middle Eastern section or near other nut butters in large supermarkets.
Nutrition information
Per serving: 400 calories; 15 g fat(3 g sat); 9 g fiber; 54 g carbohydrates; 15 g protein; 133 mcg folate; 48 mg cholesterol; 3 g sugars; 0 g added sugars; 809 IU vitamin A; 19 mg vitamin C; 148 mg calcium; 4 mg iron; 715 mg sodium; 494 mg potassium

Carbohydrate Servings: 3 1/2
Exchanges: 3 starch, 1 vegetable, 1 lean meat, 1 1/2 fat