What Are Prebiotics?
Many people have become aware of the benefits of probiotics, but very few people are familiar with prebiotics. Both pre and probiotcs are considered functional foods. Prebiotics are non-digestable fibers and carbohydrates, primarily oligosaccharides, resistant starches, pectin and beta glucans, that work synergistically with probiotics to populate the colon with healthy bacteria. Promising research in the Journal Biotech, show that there is great potential in the usage of pre and probiotics to assist with obesity, cancer, hypersensitivity, vascular diseases and degenerative ailments. Although this research has just begun, the positive benefits of consuming prebiotics cannot be denied. A large part of your immune function is in the GI tract, so by populating your GI tract with healthy bacteria, you are improving your immune function and that in turn makes for a healthier you! Try and consume at least 5-8 grams of prebiotic a day. The best sources of prebiotic foods are:
Chicory root-64.6% fiber by weight 9.3 grams (~1/3 ounce)-can be found in health food stores and commonly used in the south as a replacement for coffee.
Jerusalem Artichokes-31.5% fiber by weight 19 grams (~3/4 ounce)-Not actually an artichoke, but a Sunchoke a root like vegetable, has the potential to create stomach upset, so consume sparingly.
Asparagus-5% fiber by weight 120 grams (1/4 pound)-Steamed, grilled or roasted, a lightly flavored vegetable.
Garlic-17.5% fiber by weight 34.3 grams (1,2 ounce)-Best consumed raw, add it to salad dressings, salsa or hummus.
Onions-8.6% fiber by weight 120 grams (1/4 pound)-Onions have the same potential whether cooked or raw so enjoy in abundance!
Dandelion greens-24.3% fiber by weight-Try instead of your regular salad greens or lightly steamed with a drizzle of olive oil. They have a very mild flavor.
Leeks-11.7% fiber by weight 51.3 grams (1.8 ounce)-Closely related to onions and garlic, The can be used in a similar way to onions. Make sure you split them and rinse very well, as they can have lots of dirt and grit within the stalk.
Banana-1% fiber by weight 600 grams (1.3 pounds)-The greener bananas that are greener (not fully ripe) have a higher prebiotic content
Raw Wheat bran-5% fiber by weight 120 grams (1/4 pound)-Also found in health markets and now more readily available, can be sprinkled in your morning smoothie or yogurt parfait.
Cooked Wheat flour-4.8% fiber by weight-make sure the grains are 100% whole wheat.
I feel it is best to consume prebiotics through food, but supplements are also available. Some good brands include:
Benefiber
Prebiothrive-Gundry MD
Prebiotin prebiotic fiber powder
The food we consume has power and adding prebiotics to your daily routine is a healthy way to strengthen your GI tract and your immune function. Add small amounts at a time, as prebiotics in large doses can create some gas and bloating as your body adjusts to the new foods-but this passes and is rare.
Leek, Asparagus & Herb Soup
From: EatingWell Magazine, Spring 2003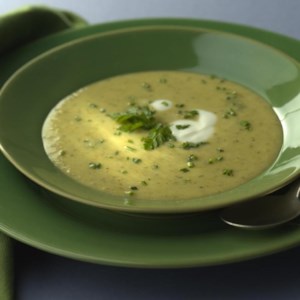 Like a bouquet of fresh vegetables, this light but soothing soup is just the thing on a cool spring evening. It is important to cut the green vegetables into small pieces so they cook quickly, while retaining their bright color.
Ingredients 6 servings
1 tablespoon extra-virgin olive oil
2 medium leeks, trimmed, washed and finely chopped (1½ cups)
2 cloves garlic, minced
½ pound new potatoes, scrubbed and diced (about 1⅔ cups)
2 cups reduced-sodium chicken broth, or vegetable broth
1 pound fresh asparagus, trimmed and cut into ½-inch pieces (1½-2 cups)
⅔ cup snow peas, or sugar snap peas, stemmed and cut into ½-inch dice
3 tablespoons chopped fresh chives, divided
2 tablespoons chopped fresh flat-leaf parsley
1 tablespoon chopped fresh dill
2 teaspoons chopped fresh chervil, (see Ingredient note) or flat-leaf parsley, plus sprigs for garnish
2 cups 1% milk
1 tablespoon lemon juice
¼ teaspoon salt, or to taste
Freshly ground pepper, to taste
⅓ cup low-fat plain yogurt, for garnish
May we suggest
NATURE'S OWN® PERFECTLY CRAFTED BREAD
Thick sliced, bakery style bread in white or multigrain
ADVERTISEMENT
Preparation
25 m
40 m
Heat oil in a large saucepan over medium-low heat. Add leeks and cook, stirring often, until softened but not browned, about 5 minutes. Add garlic and cook, stirring, for 1 minute.
Add potatoes and broth; bring to a simmer over medium-high heat. Cover and reduce heat to medium-low. Simmer, stirring occasionally, until the potatoes are tender, 10 to 15 minutes.
Increase heat to medium-high and stir in asparagus and peas; simmer, covered, stirring 2 or 3 times, until just tender, 3 to 4 minutes. Remove from heat; stir in 1 tablespoon chives, parsley, dill and chopped chervil (or parsley). Transfer the soup to a blender and blend until smooth. (Use caution when pureeing hot liquids.)
Return the soup to the pan. Add milk and bring to just below a simmer, stirring, over medium heat. Stir in lemon juice, salt and pepper. Ladle into soup bowls. Garnish each serving with a dollop of yogurt, a sprinkling of the remaining chopped chives and a sprig of chervil (or parsley).
Make Ahead Tip: Prepare through step 3. Cover and refrigerate for up to 8 hours.
Ingredient Note: Chervil (from the Greek for "herb of rejoicing") has a mild flavor between those of parsley and anise. It doesn't dry well, so is best used fresh.
Nutrition information
Serving size: 1 cup
Per serving: 116 calories; 3 g fat(1 g sat); 2 g fiber; 17 g carbohydrates; 6 g protein; 52 mcg folate; 4 mg cholesterol; 6 g sugars; 0 g added sugars; 1,074 IU vitamin A; 21 mg vitamin C; 136 mg calcium; 2 mg iron; 326 mg sodium; 492 mg potassium
Nutrition Bonus: Vitamin C (35% daily value), Vitamin A (21% dv)
Carbohydrate Servings: 1
Exchanges: ½ starch, ½ reduced-fat milk, 1 vegetable, ½ fat