The Benefits Of Cinnamon
Cinnamon is a spice harvested from the inner bark of tropical evergreen trees. There have been many health claims associated with cinnamon recently. The newest, published in the journal, Metabolism: Clinical and Experimental, found that Cinnamaldehyde (CA), a derivative of cinnamon, can aide in thermogenesis, which may lead to future, non pharmaceutical treatments for obesity. As of now, this research has only been able to be duplicated in rats and has not translated to humans, so we have a way to go before we can recommend cinnamon as an aide to weight loss.
But there has been strong research to support cinnamons role in the prevention of insulin resistance, metabolic syndrome, and type 2 diabetes by lowering fasting blood glucose levels, total cholesterol, LDL and triglyceride as well as increased HDL levels. A study published in the Journal of Diabetes Science Technology, showed very positive results. 500mg of an aqueous solution of cinnamon, called Cinnulin PF, by Integrity Neutraceuticals was one of the supplements used. It is important to note there has not been consistency with this research in humans and further studies are necessary to show proper dosing. Currently, the dosage recommendations are: 1/2 a teaspoon-1 teaspoon (2-4 grams) or 1-6 grams. Cinnamon in large doses can be toxic, so be careful when taking this supplement. Also, pay attention to quality, as not all cinnamon is created equal. There are two cinnamons, Cassia and Ceylon. Although there is a great debate which is better, they both have not been studied thoroughly enough to determine which is more beneficial. Cinnamon can also negatively impact the liver if you have sensitivity to cinnamon.
It is also important to note that cinnamon can interact with certain medications: antibiotics, blood thinners, heart medications, diabetes medications, as well as other medications. It is always important to talk to your medical provider before starting any new supplement regiment.
Cinnamon has the potential to assist with health and wellness if used judiciously and is in most peoples pantry, but more research is necessary. Enjoy in moderation!
Oatmeal-Almond Protein Pancakes
From: EatingWell Magazine, September/October 2015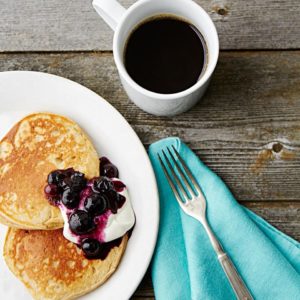 Ingredients 4 servings
½ cup unflavored protein powder
½ cup almond meal
½ cup oat flour (see Tip)
1 tablespoon sugar
1 teaspoon ground cinnamon
1 teaspoon baking powder
¼ teaspoon baking soda
¼ teaspoon salt
2 large eggs
¾ cup buttermilk
2 tablespoons canola oil
2 teaspoons vanilla extract
Preparation
Active: 30 m
Ready In: 45 m
Combine protein powder, almond meal, oat flour, sugar, cinnamon, baking powder, baking soda and salt in a blender; pulse until fully mixed. Add eggs, buttermilk (reduce to ½ cup if using whey protein), oil and vanilla; pulse, stopping to scrape down the sides as needed, until combined. Let stand for 15 minutes. Coat a large nonstick skillet or griddle with cooking spray; heat over medium-high heat. Make about 3 pancakes at a time, using ¼ cup batter per pancake; reduce the heat to medium. Cook until the edges are dry, 1 to 3 minutes. Flip and cook until golden brown on the other side, 1 to 3 minutes more. Repeat with the remaining batter, using more cooking spray and reducing the heat as needed. Serve warm.
Oat flour is made from finely milled whole oats. It's a good source of dietary fiber and whole grains. Try it in place of a portion of other flour in recipes like pancakes, quick breads and muffins. Look for it with other whole-grain flours or near gluten-free flours. Or make your own, grind old-fashioned rolled oats in a blender or food processor until they are the texture of flour.
Nutrition information
Serving size: 2 (3-inch) pancakes
Per serving: 334 calories; 19 g fat(2 g sat); 4 g fiber; 23 g carbohydrates; 20 g protein; 14 mcg folate; 95 mg cholesterol; 6 g sugars; 3 g added sugars; 159 IU vitamin A; 0 mg vitamin C; 261 mg calcium; 10 mg iron; 596 mg sodium; 220 mg potassium
Nutrition Bonus: Iron (56% daily value), Calcium (26% dv)
Carbohydrate Servings: 1½
Exchanges: 1 starch, 1½ lean meat, ½ medium-fat meat, 3 fat