Supplements for Pre Diabetes and Diabetes
The gold standard for management of Pre diabetes and Diabetes is weight management, a healthy, balanced diet and exercise. There are supplements or certain foods that can also help to stabilize blood glucose and assist with management of DM2. It is important to always consult with your physician before taking any supplement. Supplements should never be used to replace medical treatment. Some of the supplements and foods most studied include:
Alpha Lipoic Acid: A naturally occurring fatty acid and protein antioxidant. This supplement may increase insulin sensitivity and help to reduce blood glucose. It can also help to reduce the symptoms of peripheral neuropathy. The recommended dosage is 600 mg.
Chromium: A trace metal. Chromium places an essential role in normal insulin function. Foods high in chromium include-Broccoli (1/2 cup), Green beans (1/2 cup), 1 medium apple, 1 small banana. Try incorporating these foods into your diet.
Cinnamon: A spice derived from the inner bark of a tree. Cinnamon has been shown in small studies to curb blood sugar by lowering insulin resistance. Look for the Ceylon variety of cinnamon. The recommended dosage is 250 mg in extract form two times a day before meals.
American Ginseng: An herb found in North America. Some strong studies have shown this herb can lower post prandial (after meal) blood glucose levels as well as fasting blood glucose by improving the secretion of insulin. The dosage is 1 gram 1-2 hours before meals. DO not take this herb if you are also taking warfarin or immunosuppressant medications.
Magnesium: An Essential nutrient for the brain and body. It helps regulate blood sugar. It is found in many foods such as: Bran, seeds, nuts and spinach. A study in the Journal Diabetes Care, oral supplementation for people who have decreased serum magnesium levels helped to improve insulin sensitivity and metabolic control.
Tumeric: A flowering plant. May improve blood sugar levels as well as hyperlipidemia. The dosage is between 500-1000 mg. Each teaspoon has approximately 200 mg. This medication interacts with common acid reflux medications such as omeprazole, famotidine, cimetidine, esomeprazole, lansoprazole and ranitidine.
The best way to control Pre diabetes and diabetes is to stay at a healthy weight, eat a whole, complete diet, monitor carbohydrates and stay active. There are many supplements that have blends to provide glucose control as well. Talk with your physician or RD if these or other supplements could be of benefit to you.
Vegetarian Butternut Squash Chili with Black Beans
From: EatingWell.com, August 2019
Black beans and tender, sweet butternut squash make this healthy vegetarian chili truly satisfying. Load up bowls and top with Greek yogurt, cilantro and minced red onion for game night or a Meatless Monday meal. Or skip the yogurt and keep this healthy dinner vegan.
By:Katie WebsterEatingWell Recipe Contributor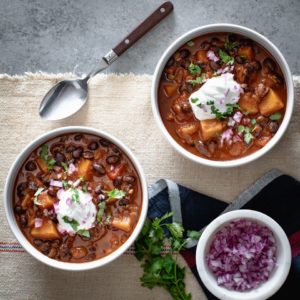 Ingredients 6 servings
1 tablespoon plus 1 teaspoon avocado oil or canola oil
4 cloves garlic, minced
1 large onion, diced
½ teaspoon salt
2 tablespoons chili powder
1 tablespoon ground cumin
¼ teaspoon ground cinnamon
¼ teaspoon ground chipotle chile, or to taste
2 cups no-salt-added vegetable broth
3 cups cubed butternut squash
2 (14 ounce) cans black beans, rinsed and drained
1 (14 ounce) can no-salt-added crushed tomatoes
1 (14 ounce) can no-salt-added diced tomatoes
½ cup Greek yogurt, for serving
¼ cup chopped fresh cilantro, for serving
¼ cup minced red onion, for serving
Preparation
Heat oil in a large heavy-bottomed soup pot or Dutch oven over medium-high heat. Add garlic, onion and salt; cook, stirring often, until starting to brown, 4 to 6 minutes. Add chili powder, cumin, cinnamon and chipotle and stir to coat. Cook, stirring often, until the spices are fragrant but not scorched.
Add broth and squash; increase heat to high and bring to a simmer, stirring occasionally. Cover, reduce heat to medium-low and simmer until the squash is tender, 18 to 20 minutes.
Stir in black beans, crushed tomatoes and diced tomatoes. Increase heat to medium-high and bring to a simmer, stirring often.
Reduce heat to medium-low and simmer, uncovered and stirring often, until the flavors have melded and the chili is thickened, 5 to 7 minutes. Serve the chili topped with a dollop of yogurt and sprinkled with cilantro and red onion, if desired.
To make ahead: Cover and refrigerate for up to 3 days or freeze for up to 3 months.
Nutrition information
Serving size: 1⅓ cups
Per serving: 246 calories; 5 g fat(0 g sat); 12 g fiber; 41 g carbohydrates; 11 g protein; 17 mcg folate; 0 cholesterol; 7 g sugars; 0 g added sugars; 7,857 IU vitamin A; 22 mg vitamin C; 128 mg calcium; 4 mg iron; 396 mg sodium; 580 mg potassium
Nutrition Bonus: Vitamin A (157% daily value), Vitamin C (37% dv), Iron (22% dv)
Carbohydrate Servings: 2½