Seasonal Affective Disorder and Weight
Winter is upon us and those blues might creep in, but sometimes those blues are actually related to the season. Seasonal Affective Disorder (SAD) is a form of depression that occurs during the same season each year, usually fall or winter, although it can occur in the warmer months as well (much rarer). No one knows the exact causes of SAD, but the main theory is that there is a reduction of serotonin-a neurotransmitter found primarily in the gastrointestinal tract. The serotonin used in the brain is thought to affect mood, social behaviors, appetite, digestion, sleep and memory  and melatonin-a hormone produced in the pineal gland found the brain that helps control your sleep and wake cycles,  in the winter months. Symptoms include: being irritable, fatigued, hypersensitivity, appetite changes-most significant, a craving for carbohydrate foods and weight gain. So, what are some things to do to reduce the negative impact of possible weight gain if you have SAD?
Exercise: Move your body! Any way you can, make it a priority. Dance around the house, walk the dog, go to the gym. Try and do it in the morning while there is still sunlight to be had. It can help release the important serotonin in the brain.
Pay attention to cravings: You will want to consume carbohydrates and sweet things, but they will not make you feel better and they will lead to inevitable weight gain.  Stick to proteins, particularly ones high in Omega 3, like fatty, cold water fish and foods with a low glycemic index, such as oatmeal, whole grains, sweet potatoes, fruits and vegetables.
Vitamin D: Although the evidence is not very strong, there may be a correlation between low levels of vitamin D and SAD.  It cannot hurt to take 600-1000IU of vitamin D daily.
Light therapy Boxes: Light-therapy boxes emit artificial light to help compensate for a lack of sunlight. Small, portable boxes are often equipped with LED lights, while larger boxes are often outfitted with florescent lights. Whichever type you choose, simply sit in front of it for 30 to 45 minutes per day.
Never just assume you have SAD. If feeling depressed, always seek medical counsel to rule out possible more serious depressive issues.  If you do have SAD, these tips can help reduce symptoms and make you feel a little better.
Fish Stew with Olives, Capers & Potatoes
From: EatingWell Magazine, September/October 2014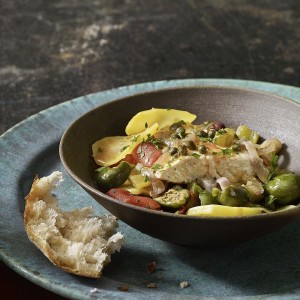 1¼ pounds mahi-mahi, swordfish or halibut steaks, about ¾ inch thick
¼ teaspoon sea salt
¼ teaspoon ground pepper
6 canned plum tomatoes, drained and very coarsely chopped
2 stalks celery, diced½ medium red onion, halved and sliced
1 cup green olives, pitted
¼ cup capers, preferably salt-packed, well rinsed, plus more for garnish
¼ cup extra-virgin olive oil
1 clove garlic, chopped
⅛ teaspoon crushed red pepper, or to taste
1½ cups thinly sliced peeled yellow-fleshed potatoes
¼ cup chopped flat-leaf parsley
Pat fish dry and sprinkle both sides with salt and pepper. Set aside.
Combine tomatoes, celery, onion, olives, capers, oil, garlic and crushed red pepper in a large skillet and toss to mix well. Layer potato slices over the vegetables to cover them completely.
Cover the skillet and place over medium-low heat. Cook, adjusting the heat to keep a steady simmer and shaking the pan from time to time—but do not stir the vegetables—until the potatoes are starting to soften, about 20 minutes.
Place the fish on top of the potatoes, cover and continue cooking until the fish is opaque in the middle, 10 to 12 minutes more. Serve sprinkled with parsley and more capers, if desired.
Nutrition information
Serving size: 4 oz. fish & 1 cup vegetables

Per serving: 255 calories 13 g fat(1 g sat); 3 g fiber; 15 g carbohydrates; 19 g protein; 24 mcg folate; 69 mg cholesterol; 2 g sugars; 0 g added sugars; 642 IU vitamin A; 17 mg vitamin C; 60 mg calcium; 2 mg iron; 315 mg sodium; 741 mg potassium
Nutrition Bonus: Vitamin C (28% daily value)
Carbohydrate Servings: 1
Exchanges: 1 starch, ½ vegetable, 2½ lean meat, 2½ fat