Nutrition and Menopause
Women in midlife start to notice many changes to their bodies, most notably weight gain, loss of muscle mass,  bone loss and gastrointestinal discomfort.  Although these changes become more obvious in the 40's, they start much earlier, so it is important for all women to pay attention to nutrition and exercise at all ages.  The main reason for these changes is the progressive loss of estrogen and progesterone. Not all women are candidates for hormonal replacement therapy, but there are natural  options available.  It is important to discuss these options with your physician. On average, women in menopause put on 1 pound per year, so it is very important to keep a healthy weight as we age.  There are many strategies women can use to reduce the symptoms of menopause.
Eat those fruits and veggies. Variety is key.  Eat all the colors of the rainbow.  Most Americans are not getting their daily servings of fruits and vegetables.  Fruit should be limited to two servings a day and non starchy vegetables are unlimited, but you should consume at least 8 servings a day.
For bone health, consume calcium. It is better to get your calcium from food sources.  You should have 1200mg of calcium daily. Good sources include dairy, canned fish w/ bones, broccoli, tofu and kale.
Make sure you get your iron. You should be consuming 8 mg of iron daily (that equates to about three servings a day). Good sources of iron include red meat, poultry, fish, eggs, nuts, enriched whole grains, beans and spinach.
Get enough protein. Try and consume protein at every meal (as it helps with feelings of satiety), as much as 90 grams a day, spread out evenly. Good sources of lean protein include, poultry, lean beef, fish, and soy.
Stay away from packaged foods as much as possible. Packaged foods are loaded with sodium (not your friend) and sugar. Keep all your beverages calorie free and if you do consume alcohol, do so in moderation. Guidelines state women should never consume more than one drink per sitting.
Stay away from white foods-avoid white flour, white sugar, white potatoes and white pasta.
Move your body.  It is important to get 30-35 minutes of cardiovascular exercise daily and two to three days a week of weight bearing exercise (which helps build lean muscle and protects/strengthens bones).  Always consult your physician before you start a new exercise program.
Take Vitamin D3. Unless you are very low (and you will need a prescription from your physician), I recommend 800-1000 IU daily.
Consider a Probiotic for gastrointestinal health.  A general probiotic, such as Culturelle can assist with gut changes and gut health.  If you are noticing gas and bloating after dairy meals, consider switching to lactose free dairy.  If constipated, try increasing fiber and water.  We should all be drinking 8, 8 ounce glasses of water daily.
Dealing with the changes that menopause brings can be daunting and stressful. The above strategies can help reduce symptoms and improve your quality of life.  Getting support from your physician and dietitian can also help reduce the stress associated with managing these changes.
Grilled Fish Tacos

From EatingWell:  May/June 2010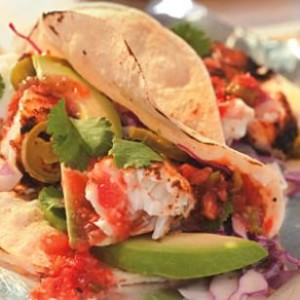 Makes: 6 servings, 2 tacos each
Active Time: 30 minutes
Total Time: 50 minutes
INGREDIENTS
ADOBO-RUBBED FISH
4 teaspoons chili powder, preferably made with New Mexico or ancho chiles (see Note)
2 tablespoons lime juice
2 tablespoons extra-virgin olive oil
1 teaspoon ground cumin
1 teaspoon onion powder
1 teaspoon garlic powder
1 teaspoon salt
1/2 teaspoon freshly ground pepper
2 pounds mahi-mahi or Pacific halibut (see Note), 1/2-3/4 inch thick, skinned and cut into 4 portions
1/4 cup reduced-fat sour cream
1/4 cup low-fat mayonnaise
2 tablespoons chopped fresh cilantro
1 teaspoon lime zest
2 tablespoons lime juice
1 teaspoon sugar
1/8 teaspoon salt
Freshly ground pepper to taste
3 cups finely shredded red or green cabbage
12 corn tortillas, warmed (see Tip)
COLESLAW
PREPARATION
To prepare fish: Combine chili powder, lime juice, oil, cumin, onion powder, garlic power, salt and pepper in a small bowl. Rub adobo rub all over fish. Let stand 20 to 30 minutes for the fish to absorb the flavor.
To prepare coleslaw: Combine sour cream, mayonnaise, cilantro, lime zest, lime juice, sugar, salt and pepper in a medium bowl; mix until smooth and creamy. Add cabbage and toss to combine. Refrigerate until ready to use.
Preheat grill to medium-high.
Oil the grill rack (see Tip) or use a grilling basket. Grill the fish until it is cooked through and easily flakes with a fork, 3 to 5 minutes per side. Transfer the fish to a platter and separate into large chunks.
Serve the tacos family-style by passing the fish, tortillas, coleslaw and taco garnishes separately.
TIPS & NOTES
Make Ahead Tip: Prepare coleslaw (Step 2) up to 4 hours ahead.
Notes: Mahi-mahi (also called dorado) from the U.S. Atlantic and halibut from the Pacific are both sustainably fished and considered best choices for the environment. For more information, go to seafoodwatch.org.
Mildly spicy dried chiles, such as ancho or New Mexico, add moderate heat and rich flavor to Mexican sauces like mole. Chili powder made from these chiles has more flavor than American-style blends. Look for whole dried chiles in the produce section of large supermarkets and New Mexico or ancho chili powder in the specialty-spice section of large supermarkets or online at penzeys.com.
Tips: To oil a grill rack, oil a folded paper towel, hold it with tongs and rub it over the rack. (Do not use cooking spray on a hot grill.)
2 ways to warm corn tortillas: 1. Microwave: Wrap stacks of up to 12 tortillas in barely damp paper towels; microwave on High for 30 to 45 seconds. Wrap tortillas in a clean towel to keep warm. 2. Oven: Wrap stacks of 6 tortillas in foil; place in a 375°F oven for 10 to 15 minutes. Wrap tortillas in a clean towel to keep warm.
NUTRITION
Per serving: 318 calories; 9 g fat (2 g sat, 5 g mono); 110 mg cholesterol; 29 g carbohydrates; 1 g added sugars; 31 g protein; 5 g fiber; 714 mg sodium; 829 mg potassium.
Nutrition Bonus: Vitamin C (30% daily value), Potassium (24% dv), Magnesium (22% dv), Vitamin A (17% dv), Iron (16% dv)