New Holiday Traditions
The holidays are once again around the corner and it might be time to rethink old traditions. It is a fact that most Americans put on the most weight from November through January. Rethinking old recipes can help to maintain weight over the holidays.  It can be difficult to remove nostalgic classics that make us feel sentimental, but there are yummy, small changes we can make to reduce calories and fat.  The best part, you and your guests won't feel deprived and you will be pleasantly surprised as well.
Try replacing traditional mashed potatoes with whipped cauliflower. You will save yourself some carbs (that you can use towards your stuffing!), and you can reduce the calories by a quarter. Its also a way to add a non starchy vegetable to the table.
Use fruit purees or stevia in desserts to reduce calories and fat.  Keep desserts in individual ramekins or containers so you automatically are portion controlled.  Fruit desserts such as crumbles are a great way to go and are always a crowd pleaser.
Do NOT put butter under the skin or your turkey or add fat.  If cooked properly, turkey will be juicy and flavorful without the added fat.
Try a new side dish vegetable-get rid of the green bean casserole. Steam beans and add a lemony/garlic dressing for a lighter, fresher side.
Replace the traditional antipasti platter for a gorgeous roasted vegetable platter with a healthy beet hummus for dipping.
If you are going to consume alcohol, stick with wine or champagne or prosecco instead of serving heavy mulled cider or eggnog. you will save calories.
Use non fat greek yogurt or low fat sour cream if you want to make a creamy soup, or to add to potatoes/cauliflower.
Baste your turkey with low sodium chicken or vegetable broth-not oil or butter.
The holidays are a time to be with loved ones and celebrate.  Doing it in a healthy way does not have to mean deprivation and control.  Enjoy and be mindful!!!!!
Herb-Roasted Turkey
From: EatingWell Magazine October/November 2006
Ingredients 12 servings
• 1 10-12-pound turkey
• 1/4 cup fresh herbs, plus 20 whole sprigs, such as thyme, rosemary, sage, oregano and/or marjoram, divided
• 1 teaspoon salt
• 1 teaspoon freshly ground pepper
• Aromatics, onion, apple, lemon, cut into 2-inch pieces (1 1/2 cups)
• 3 cups water, plus more as needed
Preparation
• Active 30 m
• Ready In 3 h 30 m
1. Position a rack in the lower third of the oven; preheat to 475 °F.
2. Remove giblets and neck from turkey cavities and reserve for making gravy. Place the turkey, breast-side up, on a rack in a large roasting pan; pat dry with paper towels. Mix minced herbs, oil, salt and pepper in a small bowl. Rub the herb mixture all over the turkey, under the skin and onto the breast meat. Place aromatics and 10 of the herb sprigs in the cavity. Tuck the wing tips under the turkey. Tie the legs together with kitchen string. Add 3 cups water and the remaining 10 herb sprigs to the pan.
3. Roast the turkey until the skin is golden brown, 45 minutes.
4. Remove the turkey from the oven. If using a remote digital thermometer, insert it into the deepest part of the thigh, close to the joint. Cover the breast with a double layer of foil, cutting as necessary to conform to the breast. Reduce oven temperature to 350 ° and continue roasting for 1 1/4 to 1 3/4 hours more. If the pan dries out, tilt the turkey to let juices run out of the cavity into the pan and add 1 cup water. The turkey is done when the thermometer (or an instant-read thermometer inserted into the thickest part of the thigh without touching bone) registers 165 °F.
5. Transfer the turkey to a serving platter and cover with foil. (If you're making Herbed Pan Gravy, start here.) Let the turkey rest for 20 minutes. Remove string and carve.
• Equipment: Large roasting pan, roasting rack, kitchen string, thermometer
Nutrition information
• Serving size: 3 ounces
• Per serving: 146 calories; 4 g fat(1 g sat); 0 g fiber; 0 g carbohydrates; 25 g protein; 8 mcg folate;82 mg cholesterol; 0 g sugars; 0 g added sugars; 27 IU vitamin A; 0 mg vitamin C; 13 mg calcium; 1 mg iron; 202 mg sodium; 210 mg potassium
• Nutrition Bonus: Zinc (16% daily value)
• Carbohydrate Servings: 0
Garlic-Parmesan Roasted Brussels Sprouts
From: EatingWell Magazine, November/December 2015
Speed up roasting vegetables, like these lemon-and-thyme-infused Brussels sprouts, by cooking them on two large baking sheets instead of just one. This basic roasting technique also works for other root vegetables such as carrots, parsnips and potatoes.
• By: Hilary MeyerEatingWell Recipe Contributor
Ingredients 6 servings
• 2 pounds Brussels sprouts, trimmed and halved (or quartered if large)
• 1 small lemon, sliced
• 4 cloves garlic, sliced
• 1/4 cup extra-virgin olive oil
• 1 tablespoon chopped fresh thyme or 1 teaspoon dried
• 1/2 teaspoon salt
• 1/4 teaspoon ground pepper
• 1/3 cup finely shredded Parmesan cheese
• 1/4 cup toasted pine nuts
Preparation
• Active 10 m
• Ready In 30 m
1. Position racks in upper and lower third of oven; preheat to 425°F.
2. Toss Brussels sprouts, lemon, garlic, oil, thyme, salt and pepper in a large bowl. Divide between 2 large rimmed baking sheets and spread in an even layer.
3. Roast without stirring for 10 minutes. Switch the pans top to bottom and continue roasting, without stirring, until lightly browned and tender, 8 to 10 minutes more. Transfer to a serving dish and sprinkle with Parmesan and pine nuts.
• Cut Down on Dishes: A rimmed baking sheet is great for everything from roasting to catching accidental drips and spills. For effortless cleanup and to keep your baking sheets in tip-top shape, line them with a layer of foil before each use.
Nutrition information
• Serving size: 1 cup
• Per serving: 204 calories; 15 g fat(3 g sat); 5 g fiber; 14 g carbohydrates; 7 g protein; 102 mcg folate; 3 mg cholesterol; 3 g sugars; 0 g added sugars; 1337 IU vitamin A; 105 mg vitamin C; 122 mg calcium; 2 mg iron; 304 mg sodium; 577 mg potassium
• Nutrition Bonus: Vitamin C (176% daily value), Vitamin A (27% dv), Folate (26% dv), Potassium (17% dv)
• Carbohydrate Servings: 1
Maple-Pumpkin Custards with Crystallized Ginger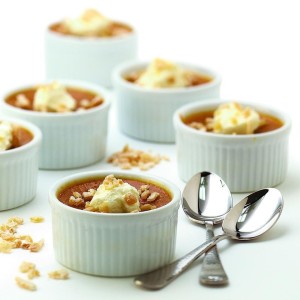 From: EatingWell Magazine, Fall 2002
A Thanksgiving meal wouldn't be complete without pumpkin, and here in Vermont we wouldn't dream of excluding our beloved maple syrup. We've combined the two in these elegant custards, featuring the best part of a pumpkin pie and saving calories for a luscious finish of real whipped cream. If you can find it, use Grade B dark amber syrup to get the best maple flavor.
• By: Jim RomanoffEatingWell Food Editor
Ingredients 6 servings
• 1 1/2 cups 1% milk
• 4 large eggs
• 3/4 cup maple syrup, (see Ingredient note)
• 3/4 cup canned unseasoned pumpkin puree
• 1 teaspoon ground cinnamon
• 1/2 teaspoon ground nutmeg
• 1/4 teaspoon salt
• 3 tablespoons whipped cream
• 1/4 cup chopped crystallized ginger
Preparation
• Active 30 m
• Ready In 3 h
1. Preheat oven to 325°F. Put a kettle of water on to heat for the water bath. Line a roasting pan with a folded kitchen towel.
2. Heat milk over low heat in a small saucepan until barely steaming but not boiling.
3. Whisk eggs and syrup in a large bowl until smooth. Gently whisk in the warm milk (a little bit at a time so the eggs don't cook). Add pumpkin puree, cinnamon, nutmeg and salt; whisk until blended.
4. Divide the mixture among six 6-ounce (3/4-cup) custard cups. Skim foam from the surface. Place custard cups in the prepared roasting pan. Pour enough boiling water into the pan to come halfway up the sides of the custard cups. Place the pan in the oven and bake, uncovered, until custards are just set but still quiver in the center when shaken, 45 to 50 minutes. Transfer custards to a wire rack and let cool for 45 minutes. Cover and refrigerate for at least 1 hour, or until chilled.
5. To serve, top each custard with a dollop of whipped cream and a sprinkling of crystallized ginger.
• Make Ahead Tip: Prepare through Step 4. Cover and refrigerate for up to 2 days.
• Ingredient Note: If you can find it, use Grade B dark amber syrup to get the best maple flavor.
Nutrition information
• Per serving: 210 calories; 4 g fat(2 g sat); 1 g fiber; 37 g carbohydrates; 7 g protein; 23 mcg folate; 128 mg cholesterol; 30 g sugars; 26 g added sugars; 5158 IU vitamin A; 1 mg vitamin C; 156 mg calcium; 1 mg iron; 179 mg sodium; 290 mg potassium
• Carbohydrate Servings: 2 1/2
• Exchanges: 1/2 low-fat milk, 2 other carbohydrate, 1/2 medium fat