How To Have A Healthy BBQ
As the summer holiday season is upon us, there are super healthy ways to enjoy and indulge in BBQ foods. A few changes and paying attention to food safety are key.
Utilize vegetables on the grill-marinate with balsamic vinegar, garlic, fresh herbs, citrus. Portobello mushrooms, zucchini, onions, tomatoes, peppers…make vegetables the centerpiece on the grill. Make sure at least half of your plate is loaded with veggies!
Use the leanest cuts of meat, chicken and fish/shellfish. Keep raw proteins refrigerated until ready to use-40 degrees or below. Make sure all foods are cooked to the proper temperature: Whole poultry: 165 °F, Poultry breasts: 165 °F, Ground poultry: 165 °F, Ground meats: 160 °F, Beef, pork, lamb, and veal (steaks, roasts and chops): 145 °F and allow to rest at least 3 minutes for optimal juiciness. Cut off charred pieces from protein as they can pose a cancer risk. Heterocyclic amines (HCAs) , chemical compounds released by charring the protein in meats can be carcinogenic.
Do NOT cross contaminate. Do not put cooked food on the same platter that you placed your raw foods. The same goes for utensils.
To reduce risk of charring, cut off all visible fat and put down foil between your food and the grill. This can reduce the release of polycyclic aromatic hydrocarbons (PAHs) from meats.
Wrap your burger or other protein in lettuce wraps instead of carb heavy buns/bread.
Switch out mayo based salads for vinegar based salads-try a german potato salad instead of a heavy, calorie laden basic potato salad. Look for other side options, like the recipe below!
Instead of the usual hotdogs, look for all natural-no nitrate based dogs. Nitrates have been linked to cancer and should be limited. Applegate Farms make a few great non nitrate options.
Pay attention to alcohol consumption-Remember that a serving of alcohol is: 5 ounces wine, a 1.1 ounce shot of liquor or 1, 12 ounce light beer. These are empty calories. Try adding ice and or seltzer to a glass of wine to make it last longer (and it is refreshing in the hot weather), or opt for a non alcoholic beer. Better yet, stay hydrated with flavored water or seltzer.
Cut up fruit and serve as dessert. Summer is the perfect season for a healthy fruit salad. Hollow out a watermelon and it makes the perfect platter for a gorgeous display of fruit and a much healthier dessert option.
BBQ is a flavorful, summertime staple. You can enjoy as long as you are mindful and make smart choices on your plate.
Hasselback Tomato Caprese Salad
From: EatingWell.com, May 2017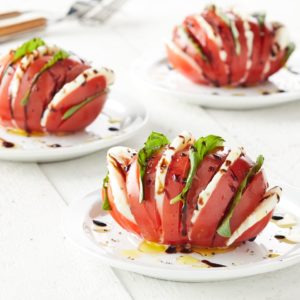 Ingredients 4 servings
4 medium tomatoes, cored
3 ounces fresh mozzarella, thinly sliced into 16 pieces
16 fresh basil leaves
¼ teaspoon salt
¼ teaspoon ground pepper
2 tablespoons extra-virgin olive oil
1 tablespoon balsamic glaze (see Tip)
Preparation

· Prep 20 m
· Ready In 20 m
Place tomatoes cored-side down on a cutting board. Make 8 cuts down each tomato, slicing almost to the bottom (or core) but not all the way through. Carefully transfer the tomatoes to a serving platter. Fill each cut alternately with mozzarella and basil. Sprinkle with salt and pepper. Drizzle with oil and balsamic glaze.
· Tip: Balsamic glaze is balsamic vinegar that's cooked until it's very thick. Look for it with other vinegars in well-stocked supermarkets.
Nutrition information
Serving size:
1 tomato
Per serving: 146 calories; 11 g fat(3 g sat); 2 g fiber; 7 g carbohydrates; 6 g protein; 22 mcg folate; 14 mg cholesterol; 5 g sugars; 1 g added sugars; 1,233 IU vitamin A; 17 mg vitamin C; 183 mg calcium; 0 mg iron; 283 mg sodium; 317 mg potassium
Nutrition Bonus: Vitamin C (28% daily value), Vitamin A (25% dv)
Carbohydrate Servings: ½
Exchanges: 1½ fat, 1 vegetable, ½ medium-fat protein