Energy Rich Foods
Everyone is looking for ways to improve or increase their energy. The foods we eat can slow us down or rev us up. Processed foods and foods high in fat and added sugar as well as foods that are hard to digest, such as red meat, reduce our energy. But foods that are whole or minimally processed can provide us with a boost of energy. Our body needs a combination of carbohydrates, fat and protein to give our body the energy we need. We also need vitamins, minerals and fiber. Foods to incorporate in your diet to provide energy include:
Strawberries: A great source of manganese, Vitamin C, fiber and potassium, strawberries are mainly water. A top antioxidant loaded with polyphenols.
Apples: Rich in antioxidants, flavinoids and fiber. Can stabilize blood glucose and the carbohydrate can provide an energy boost.
Banana: Great source of carbohydrate, potassium and B6. Great energy boost on the run.
Blueberries: High in antioxidants and fiber. Delivers a slow release of energy.
Brown rice: Whole grain and high in fiber, manganese and selenium. Provides a steady release of energy throughout the day.
Fatty fish: Such as salmon and tuna, high in important Omega 3's, protein, and B vitamins. Fatty fish will provide energy all day.
Chickpeas: Contain protein, fiber and B9 which can give you a quick boost of energy.
Avocado: Great source of healthy fat and B vitamins.
Sweet potato: A healthy, carbohydrate rich food. Good source of beta carotene, vitamin C and fiber.
Spinach: A great source of non heme iron, but should sprinkle with lemon to increase iron absorption. Iron is a key part of energy production.
Almonds: Contains protein, fiber, manganese, copper and B2 (riboflavin).
Eggs: Great source of absorbable protein which provides energy.
Yogurt: Protein and probiotics abound as well as magnesium and phosphorus. Great food to start the day.
There are important lifestyle changes as well that boost energy tremendously:
Stay at a healthy weight and do not gain weight as you age.
Get enough sleep, its critical! Pay attention to your sleep hygiene. Get 7-9 hours of sleep a night. Have a cut off time for fluids to reduce night wakings.
Move your body. Even if you are feeling sluggish, a good workout can give you a boost of energy and improve mood.
Stay as well hydrated as possible-goal 48-64 ounces a day. Water is the best source of hydration.
Do not drink or smoke. Both sap energy and impact our metabolism.
Pay attention to stress-Try meditation, yoga or tai chi to reduce stress and find a place of calm.
Have social connections. Having good social supports has been shown to increase energy and give a better quality of life.
We all want to find that magic pill to create more energy and get through the day. The best way to support your body and have better energy is through whole, high quality foods and a healthy lifestyle. Find your balance. Its always important to pay attention to the way your body feels and get support when you need it.
Strawberry-Rhubarb Cobbler with Granola Streusel
From: EatingWell.com, February 2019
Tart rhubarb and sweet strawberries turn tender in their own juices beneath a brown sugar and oat crumble topping. This spring-inspired dessert comes together quickly without pie crusts to unroll; the tender fruit cooks quickly to make this a great last-minute dessert option too. Serve warm for the most luscious texture.
By: Sarah Epperson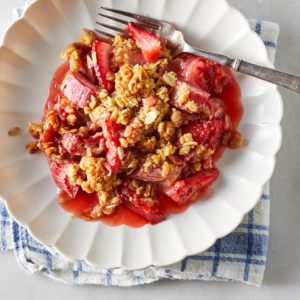 Ingredients 10 servings
Filling
3 cups quartered fresh strawberries
3 cups sliced fresh rhubarb or thawed frozen rhubarb
¼ cup granulated sugar
1 tablespoon cornstarch
1 tablespoon lemon juice

¼ teaspoon salt
Topping
½ cup lightly packed light brown sugar
½ cup old-fashioned rolled oats
⅓ cup whole-wheat pastry flour
¼ cup unsalted butter, softened
Preparation
To prepare filling: Preheat oven to 350°F. Coat an 11-by-7-inch baking dish with cooking spray.
Combine strawberries, rhubarb, granulated sugar, cornstarch, lemon juice and salt in a large bowl; transfer to the prepared baking dish.
To prepare topping: Combine brown sugar, oats, flour and butter in a medium bowl; stir until thoroughly combined. Crumble the topping evenly over the strawberry-rhubarb mixture.
Bake the cobbler until the topping is golden, 35 to 40 minutes. Cool on a wire rack for 5 minutes; serve warm or at room temperature.
Nutrition information
Serving size: ⅓ cup
Per serving: 151 calories; 5 g fat(3 g sat); 2 g fiber; 26 g carbohydrates; 2 g protein; 16 mcg folate; 12 mg cholesterol; 17 g sugars; 15 g added sugars; 185 IU vitamin A; 30 mg vitamin C; 42 mg calcium; 0 mg iron; 61 mg sodium; 193 mg potassium
Nutrition Bonus: Vitamin C (50% daily value)
Carbohydrate Servings: 1½
Exchanges: 1 fat, 1 other carbohydrate, ½ starch