Breast Health and Nutrition
October is breast cancer awareness month, so I wanted to discuss breast health and nutrition.  Although you can't change certain risk factors, such as genetic predisposition, there are many lifestyle changes that can reduce your risk.
So, from a nutrition standpoint, what are some things you can do to reduce your risk of both breast cancer and other chronic illnesses:
Eat a predominantly plant based diet.  Make sure you get 8 to 10 servings of colorful fruits and vegetables daily. Vary the color to make sure you get all the vitamins, minerals and antioxidants your body needs.
Consume 30 to 45 grams of fiber daily. Fiber comes from fruit, vegetables, legumes, and whole grains.  Fiber binds to toxic compounds and cholesterol and is eliminated by the body. Some good sources of fiber include: Apples, blueberries, grapefruit, orange, pear, black beans, chickpeas, oatmeal, quinoa, broccoli, spinach, squash and carrots.
Limit processed foods. If its pre-made, in a box, try and avoid it. If you can't pronounce the ingredients on the side of the box, you probably shouldn't eat it!  Avoid white foods: pasta, rice, flour, sugar and potato and baked goods.
Keep your diet low fat.  Consume only low fat/non fat dairy and eat lean protein such as chicken, turkey, fish and 97% ground beef.  20% of your total calories should come from fat with less than 8% coming from saturated fat. Avoid trans fat altogether.
Increase healthy fats. Omega 3, Essential Fatty Acids (EFA), and omega 6 are all good.  Healthy oils such as olive and canola, fatty fish, nuts and seeds should be in everyones diet.
Eliminate alcohol. No more than one serving daily.
Get adequate fluids. As you increase fiber, you will need to increase fluid. Fluids do many things for the body: carries nutrients and waste, participates in chemical reactions, aides in temperature regulation, maintains blood volume and is a natural lubricant. Keep all your fluids calorie free.
Making these lifestyle changes and maintaining a healthy diet can help your reduce your risk of breast cancer and can help your survival if you are already fighting the disease.
Maple-Walnut Apple Crisp
Jean Kressy, Cooking Light
OCTOBER 2000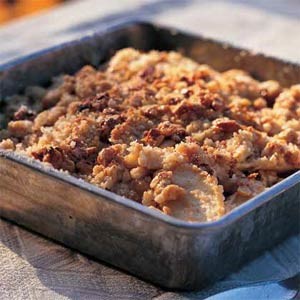 Ingredients
1/3 cup all-purpose flour
1/2 cup packed light brown sugar
1/3 cup regular oats
1/4 teaspoon ground cinnamon
1/4 cup chilled butter or stick margarine, cut into small pieces
3 tablespoons chopped walnuts
7 cups sliced peeled Rome apple (about 3 pounds)
1/4 cup maple syrup
1/2 teaspoon ground cinnamon
Preparation
Preheat oven to 375°.
Lightly spoon flour into a dry measuring cup; level with a knife. Combine flour, sugar, oats, and 1/4 teaspoon cinnamon in a medium bowl; cut in butter with a pastry blender or 2 knives until mixture is crumbly. Stir in walnuts.
Combine apple and remaining ingredients in a large bowl; toss well. Spoon apple mixture into an 8-inch square baking dish or 1 1/2-quart casserole. Sprinkle with crumb mixture. Bake at 375° for 45 minutes or until golden brown. Serve warm.
Nutritional Information
Amount per serving
Calories: 208
Calories from fat: 31%
Fat: 7.1g
Saturated fat: 3.4g
Monounsaturated fat: 1.9g
Polyunsaturated fat: 1.3g
Protein: 1.8g
Carbohydrate: 36.5g
Fiber: 2.3g
Cholesterol: 14mg
Iron: 0.9mg
Sodium: 58mg
Calcium: 27mg